VW Carbon Cover-Up May Tarnish EU Image at Global Talks in Paris
by and
Carmaker's latest admission may weaken Europe's political hand

Irregularities on CO2 follow German lobbying for automakers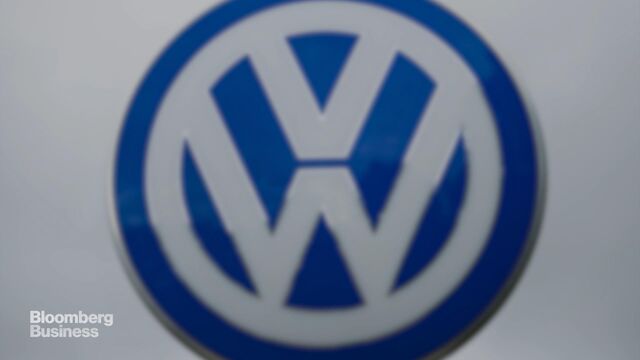 Volkswagen AG may have just driven a hole into the European Union's leadership aspirations for international talks next month on a pact to fight climate change.
The German company said on Tuesday an internal probe showed carbon-dioxide emissions in around 800,000 vehicles were understated, an irregularity it estimated could cost 2 billion euros ($2.2 billion). The revelation risks weakening the EU's political influence at the climate conference in Paris, where the 28-nation bloc aims to press other countries for more ambitious greenhouse-gas cuts.
"This is an issue of reputational damage for Germany and its technology that can create political inconveniences for the EU in Paris," Matthias Duwe, head of climate research at the Ecologic Institute in Berlin, said in a telephone interview on Wednesday. "It doesn't take away the fact that significant emission reductions have taken place in Europe."
The CO2 scandal comes on top of an admission by Volkswagen in September that it cheated on checks of smog-causing nitrogen oxides from diesel engines. That deception prompted the company, Europe's biggest auto producer, last month to report its first quarterly loss in at least 15 years because of the reserves set aside for fixes. The stock has lost more than a third of its value this year.
Paris Meeting
The latest twist in the Volkswagen drama may harm Europe's image at the Paris conference, according to Richard Chatterton, an analyst at Bloomberg New Energy Finance in London. The United Nations climate gathering, known as COP21, is set for Nov. 30-Dec. 11. Envoys from almost 200 nations aim to reach a deal that would wrest commitments for the first time from both the developed and developing world to tackle the kind of pollution blamed for more frequent heat waves, hurricanes and floods.
"How can the EU ask developing countries to adhere to strict monitoring, reporting and verification standards when one of its leading firms has been deliberately bending the rules?" Chatterton said. "For this reason, the scandal may surface during the talks."
Volkswagen said it doesn't have a full explanation yet for the CO2 irregularities and pledged to cooperate with national transport regulators. EU legislation caps carbon emissions from autos -- with penalties for overshooting -- and requires manufacturers to label their fleet's fuel efficiency and CO2 discharges.
The EU is on course to meet or overachieve its goal to cut greenhouse gases by 20 percent in 2020 compared to 1990, a track record that has given Europe a platform from which to urge other nations to follow suit. With an eye on the Paris meeting, the bloc has pledged to deepen its reduction target to at least 40 percent by 2030.
VW Trouble
The European Commission, the EU's executive arm in Brussels, brushed off any link between the VW trouble on CO2 and the upcoming Paris talks.
"The EU is on course to overshoot our 2020 climate objective," Lucia Caudet, a commission spokeswoman, told reporters on Wednesday in Brussels. "Generally speaking, let me reiterate the commission's unwavering commitment to reduce CO2 emissions."
Road transport is the No. 2 source of EU carbon emissions, according to the commission. Passenger cars account for about 12 percent of Europe's CO2 discharges, said the commission.
Some observers say the EU has less to worry about in Paris than Volkswagen does at home.
The Volkswagen scandal is "first and foremost a story about a major multinational corporation," said Greg Barker, a former U.K. climate minister who is now a member of the House of Lords. "The idea that events at VW could meaningfully impact on the reputation or position of the EU as a whole at COP21, especially given the consistent European leadership on the climate agenda, is just nonsense."
In any case, the spotlight cast on Volkswagen also implicates German leaders including Chancellor Angela Merkel. Her governments over the past decade have consistently used the nation's muscle to dilute EU limits on car pollution.
Stricter Limit
Last year, after insistence by Merkel, EU lawmakers watered down plans for a tighter cap on CO2 from autos as of 2020. As leader of Europe's biggest car-producing nation, she successfully lobbied to delay the full enactment of the stricter limit until 2021.
Carmakers are generally within their emission ceilings under the EU legislation. According to those rules, which began to be phased in as of 2012, the average EU CO2 cap is 130 grams a kilometer this year and will fall to 95 grams in 2021. New cars sold in 2014 emitted on average 123.4 grams of CO2 a kilometer, or 2.6 percent less than those sold in 2013, according to the European Environment Agency in Copenhagen.
The average European cap is based on varying targets for individual manufacturers. Volkswagen's target last year was 131.2 grams a kilometer, according to the commission, which said the carmaker has consistently been below its CO2 limits.
The legislation underpinning the current CO2 cap foresees sanctions for producers that overshoot their ceilings. Last year, the EU fined Russia's OAO AvtoVAZ, maker of the Lada brand, 1 million euros and Ferrari NV -- the supercar producer being spun off from Fiat Chrysler Automobiles NV -- 20,000 euros for breaching their CO2 limits, according to the commission.
"The EU has homework to do now to make sure its own car-emission standards are being adhered to by Volkswagen and other manufacturers," said Duwe of the Ecologic Institute. "Otherwise future emission targets might be in danger -- and with them the credibility of Europe's international climate leadership."
Before it's here, it's on the Bloomberg Terminal.
LEARN MORE