Valeant Said to Have Planned Philidor Expansion for Products
by , , and
Philidor said to be used for some prescription eye products

Former Valeant employees, manager later hired by pharmacy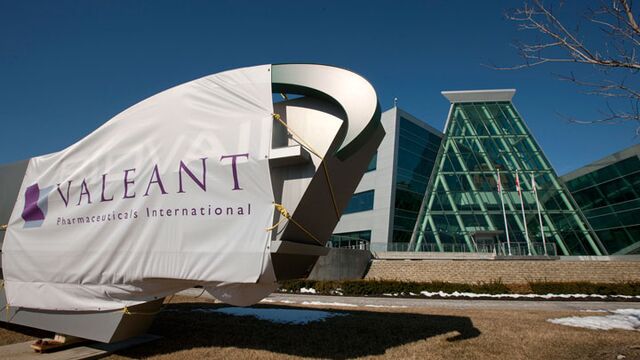 Weeks before Valeant Pharmaceuticals International Inc. said it would cut ties with Philidor Rx Services, the drugmaker was planning to expand its use of the mail-order pharmacy, said three people familiar with the matter.
Philidor was on the brink of becoming a larger part of Valeant's operations as the drugmaker planned to widen the pharmacy's role beyond dermatology to other lines of medications, the people said. Those plans were squelched after reports about tactics Philidor allegedly used to sell Valeant medicines, including altering doctors' prescriptions to gain more insurance reimbursements. Valeant -- whose stock has fallen more than 40 percent since questions first emerged about Philidor's business practices -- said on Oct. 30 that it would cut ties with the pharmacy and that Philidor would shut down.
Philidor also hired a number of former Valeant employees, according to an outside spokeswoman for Valeant. The workers, part of a group of about 30 people that helped show doctors how to direct patients to Valeant products, were dismissed by the drugmaker, with severance, before being subsequently hired by Philidor, the spokeswoman said. They followed a Valeant manager named Gary Tanner who, before leaving Valeant in September, led the drugmaker's so-called Access Team, she said.
"Gary will be assisting with our continued effort to build a national network of pharmacy partners, as well as continuing in the role as a liaison to Valeant," Philidor said in an Aug. 28 memo announcing Tanner's role building an Access Team at the pharmacy.
Patrick Ryan, an outside spokesman for Philidor with Hill & Knowlton Strategies, declined to comment for this story. On Monday, Philidor issued a statement saying that the pharmacy "adhered not only to all applicable laws but to the highest standards of ethical business practice."
Limited Use
Valeant has previously described its use of specialty pharmacies including Philidor as limited. "It's really, primarily our dermatology brands and then some of our specialty products," Chief Executive Officer Michael Pearson said on an Oct. 19 conference call, mentioning an antibiotic for gum disease and a drug for a rare genetic disease. Philidor made up 6.8 percent of Valeant's third-quarter sales, the drugmaker has said.
Prescription eye drugs made up 5.8 percent of Valeant's third-quarter sales. This year Valeant began a program to use Philidor for some of Valeant's Bausch & Lomb eye drug products, according to two of the people. The initiative began as a pilot program, with plans to expand it more widely, according to the people, who asked not to be identified discussing internal business matters.
Specialty pharmacies are common in the drug industry, where they handle complex drugs, aid drugmakers with obtaining reimbursement from insurers, and ship products directly to patients, cutting out distributors.
Close Ties
Valeant's relationship with Philidor was closer than what most drug companies have with the pharmacies. It had paid $100 million for an option to buy Philidor for nothing any time in the next 10 years, and consolidated Philidor's financials into its own.
Bloomberg reported on Oct. 30 that Philidor modified doctor's orders in some cases so it would appear that physicians required or patients desired Valeant's brand-name drugs instead of less expensive generic versions, according to former employees and an internal document.
In response, Philidor said the pharmacy "serves both patients and physicians by delivering the medications that physicians want their patients to have and which patients request. When questions arise, physicians and patients confirm their request for a branded drug."
Valeant has since worked to distance itself from Philidor. "The newest allegations about activities at Philidor raise additional questions about the company's business practices," Pearson said on Oct. 30. "We have lost confidence in Philidor's ability to continue to operate in a manner that is acceptable to Valeant and the patients and doctors we serve."
Philidor is working with Valeant for the next 30 to 90 days to help patients transfer their prescriptions to other pharmacies. Philidor will fill prescriptions for the next week, and possibly beyond, as part of that process, the pharmacy said.
Employees Move
In August, Philidor announced that after five years with Valeant, Tanner would join the pharmacy as an executive vice president and member of the management team. "Gary has been our client liaison with Valeant since the very beginning in January 2013 and has made an immeasurable contribution to Philidor's success," Philidor's CEO Andrew Davenport said in the memo.
Tanner "will be responsible for our new Philidor Access team which will consist of as many as 40 field representatives who will be responsible for ensuring our prescribers continue to receive the exceptional customer service," Davenport said in the memo.
Neither Davenport nor Tanner could be reached for comment.
Before it's here, it's on the Bloomberg Terminal.
LEARN MORE