U.S. Posts a Record Deficit in Manufacturing Trade
Imports from China also set a record in September.
By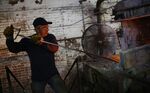 The U.S. trade deficit in manufacturing hit a record $74.7 billion in September, according to an analysis of new Census Bureau data by RealityChek, a reliable blog on manufacturing and trade. That could become fodder for debate in the presidential election, where candidates have been arguing over the plight of American factory workers. 
The record was spotted by Alan Tonelson, founder of RealityChek. Spotting records involves searching through historical trade data, since the Census Bureau doesn't make comparisons in its news releases.
The swelling of the manufacturing trade deficit is more evidence that while the overall U.S. economy has recovered from the 2007-09 recession, the manufacturing sector continues to lag. While overall employment is up 3 percent since the start of the recession, in December 2007, manufacturing employment is down 10 percent.
According to Tonelson, the previous high for the manufacturing trade deficit was $73 billion in August. He says the U.S. appears headed for an annual record deficit in manufacturing.
The Alliance for American Manufacturing noted that U.S. imports from China hit a record of $45.7 billion in September, and President Scott Paul said the inflow is "killing America's manufacturing recovery."
Thanks to the lowest oil imports in a decade, the overall U.S. trade deficit shrank in September to $40.8 billion from $48 billion in August, according to the Census Bureau (pdf). But the one-month dip masks a rising trend. "A weakening global economy, soaring dollar, and global petro-recession with an associated inventory overhang are hurting exports and widening the deficit despite the improvement once expected with the big drop in oil prices," Action Economics of Boulder, Colo., said in a statement.