U.S. Posts a Record Deficit in Manufacturing Trade
Imports from China also set a record in September.
By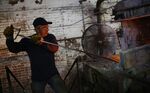 The U.S. trade deficit in manufacturing hit a record $74.7 billion in September, according to an analysis of new Census Bureau data by RealityChek, a reliable blog on manufacturing and trade. That could become fodder for debate in the presidential election, where candidates have been arguing over the plight of American factory workers.