Bomb-Plot Suspicion Becomes Top Theory in Crash of Egypt Jet
by , , and
Early evidence said to suggest Islamic State involvement

Probe said to include possibility of role of an insider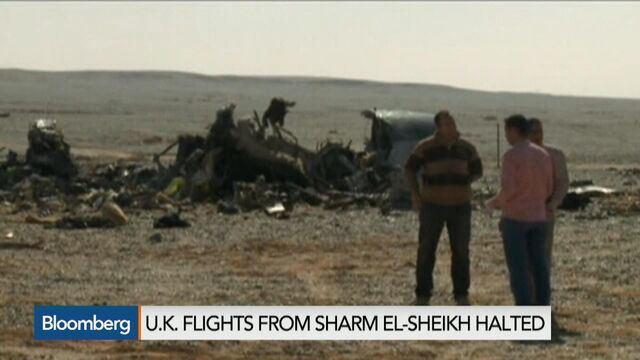 U.S. and U.K. officials are now increasingly focused on the idea that a bomb brought down the Russian jetliner that crashed in Egypt, possibly with the help of an insider who was paid off.
"We have concluded there is a significant possibility that the crash was caused by an explosive device on board the aircraft," U.K. Foreign Secretary Philip Hammond said Wednesday after Prime Minister David Cameron concluded a meeting of his government's emergency committee.
Three U.S. officials speaking on condition of anonymity said terrorism was now the leading theory in the case. Preliminary evidence suggested Islamic State involvement and investigators were examining the prospect that someone -- perhaps a baggage handler or airline official -- was bribed to get a bomb onto the Metrojet airliner, two of the officials said. Other possibilities haven't been ruled out, the officials said.
The emerging focus on a bomb followed claims by people purporting to represent the Islamic State militants Russia is fighting in Syria who said the jet was downed in retaliation. The U.K. issued an advisory against all but essential travel to or from Egypt's Sharm el-Sheikh airport, where the doomed plane took off Saturday, and Irish regulators ordered Ireland-based airlines not to fly to the Red Sea resort or the the Sinai Peninsula until further notice.
"The reaction of Russia and the international community will be harsh" if a bomb did destroy the plane, though the investigation should be allowed to conclude its work, Franz Klintsevich, deputy head of the defense committee of the Federation Council, Russia's upper house of parliament, said by phone Thursday. "Security measures will be strengthened even further."
'Support Putin'
Russians have experience of terrorism and "support the country's leadership today, which is trying to neutralize these things while they're far away," Klintsevich said. "People will support Putin on this issue," he said.
Fear of terrorism among Russians has increased since President Vladimir Putin ordered bombing operations in Syria, with 65 percent worried that they or their loved ones may become victims of an attack, up from 58 percent at the end of 2014, according to an Oct. 17-18 poll of 1,600 people by the state-run VTsIOM company, published Oct. 23. Confidence in the authorities is also at a record high, however, and 77 percent believe "the government will be able to protect the population against terrorist attacks," according to a statement on VTsIOM's website.
Rerouting Flights
United Continental Holdings Inc. said it's rerouting flights away from Sinai, going beyond an existing advisory from the U.S. Federal Aviation Administration for carriers not to fly below 26,000 feet (7,900 meters) in that part of the Middle East due to security concerns. None of the U.S.-based international airlines serves Egyptian markets.
Other governments -- including Russia's -- warned that any conclusions are premature and that a structural failure or other cause could explain how the Airbus Group SE A321 broke into pieces and fell to the desert, killing all 224 aboard for the flight to St. Petersburg, Russia. Egyptian Foreign Minister Sameh Shoukry called the U.K. government statement "premature and unwarranted," according to the BBC.

"Only investigators can have theories," Kremlin spokesman Dmitry Peskov said by text message. "Everyone has guesses and speculation."
While the State Department warned employees to avoid the Sinai peninsula, spokesman John Kirby said it was too soon to conclude terrorists destroyed the Metrojet aircraft. "We're not in a position to make a call right now," he said. "We don't know what brought this plane down."
Downed Aircraft
Confirmation of a bombing would add the jet to a roster of aircraft from multiple countries to have been blown up in flight. The most recent incidents came in 2004, when two Russian passenger aircraft were destroyed in explosions linked to Chechen rebels, according to Richard Bloom, director of terrorism, intelligence and security at Embry-Riddle Aeronautical University in Prescott, Arizona.
Recent terrorist efforts to destroy aircraft were notable for their failures. In 2006, U.K. police said they foiled a plot to knock down trans-Atlantic jetliners with liquid explosives, and in 2009 passengers on a Delta jet stopped the so-called underwear bomber, Umar Farouk Abdulmutallab, from destroying a plane en route to Detroit.
Less than a year later, authorities intercepted two packages containing the explosive PETN that were sent from Yemen to synagogues in Chicago via airfreight.
Tightened Security
Anthony Skinner, an analyst with U.K.-based forecasting company Verisk Maplecroft, said evidence of Islamic State involvement in the crash would result in stepped-up efforts to fight Islamist groups and further tighten airport security.
"An onboard aircraft bombing would represent a really serious breach of airport security," Skinner said. "Heads would roll."
Revised data covering the Metrojet's final moments show that it slowed suddenly and then plunged to the Earth at 300 miles (483 kilometers) per hour, according to flight-tracking website FlightRadar24. The plane fell from 31,000 feet to 26,000 feet in the final 26 seconds, according to the final transmissions from its radio transponder.
Before it's here, it's on the Bloomberg Terminal.
LEARN MORE