U.K Lawmakers Grill 'Lazy' Antitrust Regulator After Bank Probe
By
Free checking accounts are a "con trick," lawmaker says

Grilling comes two weeks after results of retail banking probe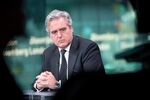 U.K. lawmakers assailed antitrust regulators for a report on bank checking accounts and small-business loans that allowed the industry "to pull the wool over their eyes."
Alasdair Smith, chairman of the Competition and Market Authority's retail banking inquiry, was questioned by MPs two weeks after the results of the probe were published. One lawmaker called the free checking accounts given out by lenders a "con trick."
"The answers you're coming up with just seem to be lazy," Mark Garnier, a Conservative lawmaker, said after Smith was unable to disclose the costs borne by banks for offering free accounts. "You haven't challenged these banks to come up with justification for the costs. You just don't seem to have challenged them at all."
It was the second market investigation carried out by the CMA since it was spun out of the Office of Fair Trading in April 2014. The U.K.'s energy companies also escaped the more drastic recommendations the CMA could have made, which included proposals to break up the biggest six suppliers.
The four largest lenders control 77 percent of checking accounts and as much as 90 percent of business lending, the CMA said in November. Lloyds Banking Group Plc has the biggest share of checking accounts at 24 percent, while Royal Bank of Scotland Group Plc is biggest in commercial lending at 31 percent, analysts at Citigroup Inc. wrote in a note to clients in September.
U.K. banks are able to offer free accounts by collecting fees and interest from customers who carry a negative balance. It was this cross-subsidization that drew most of the committee's ire.
"A charge on an account per month is the simplest, most basic measure that you can have," said Garnier. "Then everybody has full transparency and the consumers are better off and the banks aren't encouraged into bad behavior by cross-subsidization."