Trudeau Entrusts Finance to Former Pension Executive Morneau
by and
Rookie MP will lead Liberal efforts to revive economic growth

Lawmaker was executive chairman of pension consulting firm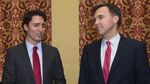 Canadian Prime Minister Justin Trudeau opted for Bay Street acumen over political experience in naming Bill Morneau finance minister, betting the rookie lawmaker can find ways to spark growth in a economy reeling from a commodities slump.
Morneau, former chief executive officer of the Morneau Shepell Inc. pension consulting firm that was started by his father, was given the post Wednesday as Trudeau announced his cabinet in Ottawa. Morneau, 53, was elected in the Oct. 19 vote that swept the Liberals to power for the first time since 2006.
The appointment of a corporate executive to the key finance post suggests Trudeau will turn quickly to bolstering Canada's stagnant economy, improving its poor productivity record and getting the nation's businesses spending again. Canada's economy is forecast to grow about 1 percent this year, less than half the U.S. rate, as plunging prices for oil, natural gas and other commodities leads to job and spending cuts at Canada's resource companies.
Morneau, who holds a bachelor's degree from the University of Western Ontario and a master's from the London School of Economics, beat out a host of long-serving Liberal lawmakers for a post that typically goes to a political veteran who can navigate public and caucus pressure for spending while maintaining fiscal restraint, as Trudeau, 43, pledges to run deficits to stimulate growth.
The finance minister "is not an equal among other ministers," said Don Drummond, a former deputy minister at finance and chief economist at Toronto-Dominion Bank, in an interview before the cabinet announcement. "This person is the one who says yes and more often says no to others, and has the authority to carry it out."
Fiscal Stimulus
Among Morneau's first tasks will be to deliver on campaign promises and prepare a budget early in the new year. Trudeau has pledged deficits of C$25 billion ($19.3 billion) over three years, including no more than C$10 billion in his first budget, and to increase infrastructure spending by C$60 billion over a decade. Another priority is lowering the tax rate for people earning between C$44,701 and C$89,401 a year to 20.5 percent from 22 percent and enhancing child-benefit payments.
Morneau will also be the main architect of Trudeau's plans for a more expansive government role in the economy beyond stimulus spending, including a focus on income inequality. That includes plans for a tax increase on people earning more than C$200,000 a year and higher payroll taxes on workers. 
Morneau served as an executive at Morneau Shepell from 1992 to 2009, when he became executive chairman. In an interview at the start of the campaign, Morneau conceded few Canadian executives make the leap to federal politics and said he did so for a chance to have an impact on public policy -- and on income inequality, in particular.
"If you're fortunate to have more than one chapter in your life, it's worth going for," he said in August. "This is the place where you figure you might have the biggest impact."
Business Background
Founded in 1966, Morneau Shepell went public in 2005. Morneau maintains a 4.7 percent stake in the company, a holding valued at more than C$30 million. Morneau's total compensation as executive chairman, including bonus and stock awards, was C$1.07 million last year and C$1.78 million in 2013.
Since going public, the company has outperformed the market -- gaining 54 percent until Morneau stepped down Oct. 26, topping a 44 percent gain for the S&P/TSX Financials Index and a loss of 23 percent for the S&P/TSX Smallcaps Index, data compiled by Bloomberg show. The company has lagged as of late, missing analysts' earnings estimates for the past 16 consecutive quarters. The stock has a "relatively defensive nature" and stable revenue, Scotiabank Equity Research said in an Oct. 22 research note.
Morneau also served as chair of the C.D. Howe Institute, a prominent think tank, from 2010 to 2014. He has held board positions with AGF Management Ltd., Toronto's St. Michael's Hospital, the Canadian Opera Company and Covenant House.
All this makes him a known figure on Bay Street, the heart of Toronto's financial district, according to William Robson, CEO at C.D. Howe.
'Personal Sacrifice'
"He went into public life for the reasons you want to see someone go into public life for," Robson said. "He certainly didn't do it for the money. He made a considerable personal sacrifice to do that. He's well thought of for that reason."
Morneau was a diligent, effective board chair who didn't reveal any personal political leanings in his work, Robson said.
"He certainly is a very economically, financially literate person. He knows the business world well and he understands the compensation issues that were bread and butter for Morneau Shepell," Robson said. "Business people tend to be very bottom-line conscious, it's natural. In running a business there's a world of hurt in making losses and life is much more pleasant when you're in the black."
Morneau, a father of four, resigned his C.D. Howe post last year after speaking at the Liberal convention. Elections Canada records show he has donated to the rival Conservatives. He describes himself as "not a deeply partisan person" who was drawn to Trudeau's team by concern over income inequality in Canada -- opposing, for instance, Harper's income-splitting tax measure that benefited high-income, single-earner homes.
"The long-term success of Canada, as well as in business, includes making sure that all Canadians are successful," Morneau said in August. "So if the rewards of that success only go to a favored few, we will end up with a challenge down the road. It's already there in some places and it will get worse."
Before it's here, it's on the Bloomberg Terminal.
LEARN MORE