The Good, The Bad and The Ugly in China's Provincial Economies
Bloomberg News
Services and consumption boost economic growth at local level

Growth unadjusted for deflation poses challenge to companies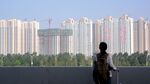 China's leadership is signaling a new growth minimum for the nation of 6.5 percent. At the local level, what that means depends on where you sit. A closer look at the most recent data shows diverging conditions across China's 31 regions, from the booming southern beach resorts to the northeast's rust belt.
The good news is that 20 of the 29 provincial-level regions that have reported gross domestic product figures for the first nine months saw an acceleration from the first six months. The bad news is that the pickup doesn't reflect how companies are struggling, as many growth rates are puffed up by statistical compensation for deflation, not rising output. The ugly: fears of a hard landing are materializing in the industrial northeast.
This fragmentation in the regional growth outlook is mirrored by increasing divergence among industries as old growth dynamos linked to residential construction and low-end manufacturing wane and new services and innovation-led industries bloom. Against this backdrop of increasing complexity, the government is seeking to reform the economy while maintaining medium- to high-speed growth.
"You should think of China as lots of regional markets," said Kenneth Jarrett, president of the American Chamber of Commerce in Shanghai. "It's a continent and you need different strategies for different parts of the country."
President Xi Jinping, whose government is transforming the $10 trillion-plus economy from one driven by debt-fueled investment and exports into a more sustainable one led by consumer spending and services, said Tuesday average annual growth should be no less than 6.5 percent in the next five years. China's GDP rose 6.9 percent in the three months through September from a year earlier, the slowest quarterly expansion since the first three months of 2009.
The Good
Most provinces that posted a growth acceleration attributed the pickup to gains from services and consumption. That's in line with the nation's goal to rebalance its investment-driven economy and reinforces the good news story out of the world's second-biggest economy this year.

The capital of Beijing and the financial center of Shanghai both got boosts from financial services, which surged 19 percent and 27 percent respectively, while technology saw double digit jumps in both provincial-level municipalities. That helped offset an overall growth slowdown in both provinces.
But there were some surprise packets on the services front too. Jilin province in the industrial north reported a 22 percent surge in the value-added of financial services, even higher than the national level of 17 percent.
Output in Guangdong, the biggest regional economy and one of China's manufacturing heartlands, saw a pickup to 7.9 percent in the third quarter. Officials there attributed the strength to having a relatively developed services sector, while its population of 107 million makes it a massive consumer market.
The baton has been passed from investment to consumption, according to Michael Spence, the Nobel laureate and economics professor at New York University's Stern School of Business. China's household consumption is increasing to about 50 percent, and that's supporting relatively high-speed growth, he said in a speech in Beijing on Wednesday.
A recovery in property prices helped the southern island province of Hainan, where growth surged to 8.2 percent in the January through September period, compared with 4.7 percent in the first quarter. Local officials cited a 26 percent jump in real estate development investment and a 5.5 percent increase in property sales.
The Bad
Nineteen of 29 provinces reported a negative GDP deflator, meaning their "real" growth rates were adjusted higher from "nominal" levels to account for falling prices.
"Only economists should care about real GDP growth, because it's intangible. What's tangible are people's income, companies' revenue and governments' taxes, and those are all in nominal GDP," said Tao Dong, chief regional economist for Asia excluding Japan at Credit Suisse Group AG in Hong Kong. "Income growth and corporate profits are facing higher risks than the slowdown shown by real GDP."
That's not good news for a nation with a heavy debt load, since debt doesn't deflate along with prices.
It's a bleaker picture looking at nominal figures: While just four regions out of the 29 that have reported data for the first nine months had slower real GDP growth compared with the first half, in nominal terms 13 provinces slowed in the third quarter.
That means the strength in services is largely being offset by lackluster manufacturing, which is confronting a record stretch of declines in prices of products leaving the factory gate.
The Ugly
Now to the ugly. While the world worries about a hard landing for China, it's already there in some parts of the continent-sized economy. The hardest hit areas in China's slowdown are all in the industrial north: Liaoning, Shanxi, Jilin and Hebei.
A fifth province, Heilongjiang, is one of the last holdouts in posting its third-quarter figures. Its longer-term prospects also look dim as it confronts an oil price slump and slowdown in heavy industry. The largest coal miner in the northeast, Heilongjiang LongMay Mining Group Co., said in September it will cut 100,000 jobs in the fourth quarter, according to China Daily. That's a workforce reduction of more than 40 percent.
The economies of steel-producing Hebei and coal-mining Shanxi contracted in the first three quarters, when growth is unadjusted for inflation. The provinces reported a 6.5 percent and a 2.8 percent increases in real growth rates. Hebei's GDP deflator was minus 8.5 percentage point, driven lower by collapsing steel prices. That compared to minus 0.7 percentage point for the country.
Plants in the northeastern region bordering Russia have suffered the heaviest blow from overcapacity. The economy of Liaoning, also facing a major property stock overhang, expanded 2.7 percent. Unadjusted for inflation, that narrowed to just 0.2 percent.