Takata Sinks 25% as Doubts About Air-Bag Maker's Survival Mount
By and
Subaru, Mitsubishi say they're considering dropping Takata

Air-bag maker's stock posted record three-day decline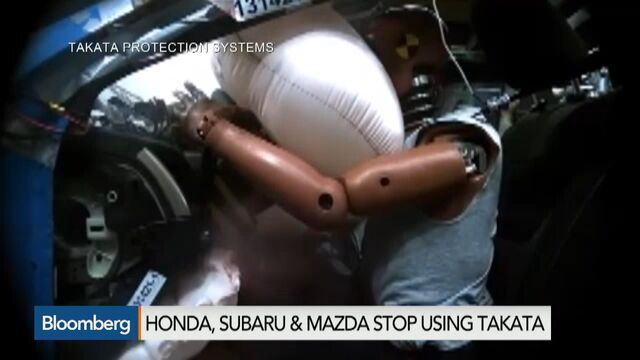 Toyota Motor Corp. joined Honda Motor Co. in saying they won't use key components made by Takata Corp., as more automakers come out to distance themselves from the air-bag supplier whose defective devices are behind the biggest ever automotive safety recall.
"The inflator using ammonium nitrate produced by Takata will not be adopted by Toyota," Akio Toyoda, Toyota president, said at a briefing in Tokyo Friday. "What's most important above anything else is the safety and peace of mind of customers."
Takata fell 6.2 percent in Tokyo trading, resulting in a 39 percent three-day decline, the most on record. The company posted a 8.66 billion yen ($71 million) loss in the second quarter after the trading close, and slashed its full-year net income forecast to 5 billion yen from 20 billion yen.
Honda and Toyota are the two companies with the most number of vehicles recalled because of Takata's air bags, which have been found to rupture with excessive force and are linked to more than a hundred injuries and eight deaths.
Mazda Motor Corp. said on Thursday its new cars will no longer use Takata air-bag inflators, while Subaru-maker Fuji Heavy Industries Ltd. and Mitsubishi Motors Corp. are considering the same. The comments follow Honda's decision to stop using Takata inflators in new models and its accusation that the company manipulated test data. The Nikkei reported Friday that Nissan Motor Co. plans not to use Takata's air-bag inflators in new models.
Unusual Repudiation
The emerging rifts mark an unusual repudiation in Japan, where corporate relationships are measured in decades and Takata had counted on automakers' support despite more than a year of criticism from U.S. lawmakers and its auto-safety regulator. Even investors appeared to think the worst was over, with the stock up 14 percent this year at one point through May. The tide turned this week when Honda surprised the market and set the stage for a potential exodus of more customers.
"Although recall costs were piling up, Takata's operational profits weren't bad, which is why the market was optimistic," said Chihiro Ota, general manager at SMBC Nikko Securities Inc. in Tokyo. "But with customers now distancing themselves from Takata investors started worrying about how the company can pay all those costs. What can ease this drop? Until we know how it happened and where the responsibility lies, the trend is down."
Stock Plunge
Takata Spokesman Toyohiro Hishikawa declined to comment for this story. Nissan declined to comment on the Nikkei report, saying that it doesn't comment on new models or relationships with suppliers.
Honda's desertion was significant as it led analysts to openly question Takata's ability to survive and even President Shigehisa Takada acknowledged a risk to the company's existence. Asked whether the company will survive, 49-year-old Takada told reporters Wednesday, "there's risk."
Any blows to Takata's air bag business are devastating because it's the company's largest product segment, at 38 percent of its 642.8 billion yen in sales for the fiscal year through March. Inflators are only a portion of its air bag products, and other components the company has to fall back on include seat belts, steering wheels, electronics and child seats.
Fundraising Plan
Takata has hired SMBC Nikko Securities Inc. to draw up a fundraising plan for the air-bag supplier, with the financial adviser proposing an additional share sale as one of the potential options, according to people familiar with the matter.
"I really don't see how they're going to be able to survive as an inflator manufacturer," Scott Upham, founder of Valient Market Research, who has followed the air bag industry for more than two decades. "When your major clients publicly come out and say that they're not going to use your products anymore, it makes this very difficult to sustain your business."
Takata's share of the global market for air bag inflators may fall to 5 percent by the end of the decade, from 22 percent last year, Valient estimates. "A lot of that is a result of losing major production contracts with their core clients, the Japanese," Upham said.
Inaccurate Information
Honda made its announcement hours after the U.S. National Highway Traffic Safety Administration fined Takata as much as a record $200 million. The agency ordered the company to phase out ammonium nitrate-based inflators, linked to seven deaths and almost 100 injuries in the U.S., by 2018. NHTSA also said Takata provided "selective, incomplete or inaccurate information" to the agency and customers since at least 2009.
Other companies are stepping up to provide alternative supplies to carmakers. By March, Daicel Corp., Autoliv Inc. and TRW Automotive will make about 68 percent of those components, according to a letter Takata sent to NHTSA in July.
Honda, which has bought parts from the supplier for more than 50 years, said this week it will be able to get all replacement inflators from companies other than Takata in the foreseeable future. The carmaker will be buying the substitute components from all three of Takata's competitors.