RBA's Stevens Says Accommodative Policy Likely for Some Time Yet
by
Any near-term policy change likely to be easing not tightening

There is now ``more of an edge'' to productivity discusssion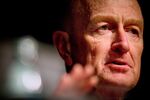 Australia's central bank Governor Glenn Stevens said accommodative monetary policy is likely to be appropriate "for some time yet," while adding the macroeconomic impact of recent mortgage rate increases by major banks "may not be large."
Stevens's speech, titled "The Path to Prosperity," ranged across the challenges Australia faces, which he noted hadn't changed much since he last delivered an address at the same forum in Melbourne six years earlier. The nation is even more reliant on China, budget repair remains necessary and the country has to focus on boosting productivity to generate greater wealth, he said.
"It seems likely that an accommodative stance will be appropriate for some time yet," Stevens said in the address Thursday. "Were a change to monetary policy to be required in the near term, it would almost certainly be an easing, not a tightening. Certainly the rate of CPI inflation wouldn't be an impediment to that if we thought it was useful to do it."
The governor's remarks elaborate on the fine line the central bank is treading between acknowledging a further easing may be needed to boost lackluster growth while at the same time talking up improved prospects for the economy that could see it keep interest rates steady for some time.
Unwinding Investment
The Australian dollar fell following his latest remarks and was trading at 71.39 U.S. cents at 11:22 a.m. in Sydney from 71.49 cents before the speech. Traders are pricing in a 25 percent chance of a rate cut in December, rising to a more than 60 percent chance in February. The RBA's board doesn't meet in January.
Stevens repeated that Australia is about halfway through a decline in mining investment and the drag on growth from that unwinding is about as intense as it's likely to get. Still, firms outside the resources industry have generated "respectable growth in employment" and a rebalancing of growth is occurring, even if it's not seamless.
As Australia's mining investment boom wanes, Stevens reiterated the central bank's line that productivity improvements are "the main game" and will be crucial for growth in living standards. "The effects of population ageing, moreover, while slow moving, are now occurring. There is perhaps more of an edge in the productivity discussion just lately, as there should be," he said.
Record-Low Rates
The Reserve Bank of Australia cut the benchmark interest rate to a record-low 2 percent in May and has paused for the past six months. In his policy statement Tuesday, Stevens said the outlook for inflation -- which was slow in the third quarter -- may offer scope to further ease policy. At the same time, the governor said the board judged the chances of an improvement in economic conditions "had firmed a little" in recent months.
Responding to an audience question, Stevens said Australia's assumed rate of potential growth had been "lowered a little bit" to reflect a weaker rate of population growth. He didn't put a figure on the new number. Australia's economy has expanded below it's 30-year average rate of 3.25 percent for six of the past seven years.
In China, Australia's biggest trading partner, anxiety has heightened over its economic outlook following a stock market slump and a surprise yuan devaluation in August that roiled global markets.
"The current rate of growth of the Chinese economy is uncertain, as is its future growth rate," Stevens said. "It is likely that the marginal steel intensity of China's growth will be lower in future than in the past."
"At the same time, the marginal propensity of the Chinese people to consume services is rising noticeably," he said. "So the challenge for Australian resource producers to be the most efficient suppliers in a world of slower growth in demand for resources will co-exist with greater opportunities for other firms to offer value added in services."
Before it's here, it's on the Bloomberg Terminal.
LEARN MORE