business
Messi Drawn Into Catalan Battle as Rajoy Prepares for Action
By
Courts probe corruption allegations against Catalan icons

Regional president's party treasurer among those arrested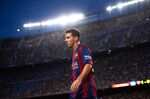 As the struggle over Catalan independence intensifies, Barcelona soccer star Lionel Messi is getting dragged into the fray.
The record goalscorer and other leading players at Barcelona Football Club -- Catalonia's most renowned worldwide brand and a symbol for the independence movement -- face tax-fraud charges amid a wave of graft-related court cases being brought by the Spanish authorities against the region's social and political icons. The whiff of scandal may help shore up public support if Prime Minister Mariano Rajoy takes action against separatist lawmakers' attempting to break away from Spain.
Last month, Spanish courts ordered raids on the headquarters of Convergencia, the party led by Catalonia's acting president, Artur Mas, as well as on houses owned by its founder, Jordi Pujol, and a Barcelona F.C. vice president. Convergencia's party treasurer was arrested.
"The allegations of corruption help to prepare the ground for Mas or some of his colleagues potentially to be stripped of their posts," Jordi Munoz, a political-science professor at Barcelona University, said in an interview.
While Spanish judges in theory operate independently from the government, political control over appointments leaves courts vulnerable to outside influence. In a July survey of 1,285 active judges, 75 percent of respondents said the judicial council doesn't do enough to protect courts' independence and 9 percent of those ruling on corruption cases said they'd been subject to pressure.
International Support
The latest moves by the Spanish judiciary took place just as Rajoy was hosting a conference in Madrid of European sister-party leaders where German Chancellor Angela Merkel made a speech reaffirming her commitment to "the territorial integrity of all countries in Europe."
With national elections set for Dec. 20 and an economic recovery now maybe past its peak, Rajoy is struggling to hold on to his majority in parliament as well as to fend off the Catalan separatist challenge. The prime minister has said he's ready to use "all legal and judicial" tools to stop Mas's secession strategy.
"There is no reason, not in my government's actions or those of previous governments, that can justify the disloyalty and permanent challenge that the leaders of the Catalan government have mounted," Rajoy said at an event in Madrid Wednesday.
The Catalan parliament intends to declare a formal start to the secession process Monday, a step Rajoy says is illegal under Spanish law. The premier can attempt to block the move in Spain's Constitutional Court, and the constitution also gives him the capacity to remove powers from the regional administration in certain circumstances.
"Rajoy has the opportunity to show he's the guarantor of Spanish unity," Narciso Michavila, chairman of Madrid-based pollster GAD3, which has advised the premier's People's Party, said in an interview. It's a strategy that "can help to mobilize some of the electorate who aren't convinced by his economy-focused rhetoric."
Undermining Mas
The court moves are starting to help shift the balance of the political battle over Catalonia in favor of the central government. Until now, Mas has faced legal pressure over the informal referendum on independence he held a year ago that the Spanish Constitutional Court ruled illegal. The action prompted support in Catalonia and elsewhere in Spain.
That solidarity evaporated, though, after a court in Tarragona, west of Barcelona, ordered an Oct. 21 search of Mas's Convergencia party headquarters as part of an investigation into bribery allegations. Police arrested 10 people including the party treasurer and the head of infrastructure in the acting Catalan government led by Mas. 
That's hurting Mas's chances of brokering a coalition to form a new regional government. Mas's ally, Oriol Junqueras, said last month corruption allegations are damaging the push for independence and signaled someone else other than Mas could become regional president.
Support for Rajoy's PP rose in an opinion poll last week for the first time in seven weeks, a possible indication that the premier's strategy is having an effect on voters.
On Oct. 27, the National Court in Madrid ordered raids on the home of Pujol, Mas's political mentor and president of Catalonia for more than two decades. The house of Barcelona F.C. Vice President Carles Vilarrubi was also searched as part of an investigation related to an alleged bribery scheme ran by some members of the Pujol family. The former regional president had already admitted to keeping several million euros beyond the reach of the tax authorities.
Vilarrubi said in a statement that the search was incorrect because it was focused on a company in which has no involvement. Cristobal Martell, a Barcelona-based lawyer for Pujol, didn't respond to an e-mail and telephone calls. Messi's lawyer, Enrique Bacigalupo, also didn't respond to requests for comment.
Catalan separatist groups handed out 30,000 pro-independence flags to Barcelona fans before the club's Champions League match against Bate Borisov on Wednesday night. The club was fined by UEFA in September for allowing supporters to stage a political protest at an earlier game.
— With assistance by Tino Andresen, and Maria Tadeo
(Adds Champions League protest in last paragraph.)
Before it's here, it's on the Bloomberg Terminal.
LEARN MORE