Media Titans Try Jon Stewart, `Star Trek' in Web Effort
by
Comedian, rebooted space series key to CBS, HBO online plans

Drop in media stocks highlights urgency of streaming efforts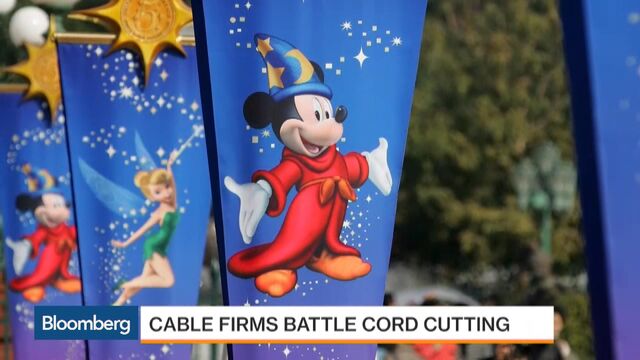 Media companies are turning to Jon Stewart and "Star Trek," two stalwarts of traditional TV, to seek growth online and answer investors' deepening concerns about the future of their business.
Stewart, a cable-TV star when he was with Viacom Inc.'s Comedy Central, will produce short-form videos for HBO's fledgling online service, the Time Warner Inc.-owned network said on Tuesday. A new installment of the "Star Trek" franchise, meanwhile, will play a central role in CBS Corp.'s effort to attract customers to its All Access streaming service.
As a disastrous summer and fall cements investor concerns that viewers are falling away from cable and broadcast TV, media companies are starting to bring some of their most important concepts to their online-only services. They're rebooting well-known TV properties and nabbing high-profile stars, like online rival Netflix Inc. did with "Arrested Development" and Chelsea Handler.
"We're setting ourselves up to live long and prosper," CBS Chief Executive Officer Leslie Moonves said Tuesday on the company's quarterly conference call with analysts, invoking the well-known greeting from Star Trek. "All Access is a major initiative for us."
That didn't console investors, who sent media stocks down Wednesday on renewed concerns about the future of pay TV. CBS retreated after Time Warner Inc. and 21st Century Fox Inc. issued disappointing earnings reports. Time Warner and Fox each dropped as much as 10 percent, while Viacom sank 8.9 percent and Disney lost more than 4 percent.
"Star Trek" will make its series debut on the CBS network, according to a statement Monday. Then it will move to the online-only All Access. The company timed the announcement for the day before third-quarter results, ensuring analysts focused on its plans for All Access, which BTIG analyst Rich Greenfield wrote in a note Tuesday had previously been insignificant and underwhelming.
Time Warner proposed another potential salve on its earnings call Wednesday: a Web-only service for its Turner Broadcasting division. The company is "in talks with numerous interested parties to potentially launch" such a service, which could lift sales in a division that shrank last quarter.
Fox already has such a service in Hulu, and Chief Executive Officer James Murdoch spent much of Wednesday's earnings call trumpeting growth there.
"We believe very strongly in Hulu and Hulu's prospects," Murdoch said. "It's really crucial that we don't become overly beholden to our own incumbency."
The lone broadcast network without a stake in Hulu LLC, CBS conceived All Access in response to streaming services like Netflix. The product costs $5.99 a month for a live feed of CBS, as well as a library of older shows. CBS said it may introduce an advertising-free version of All Access for a higher price, as Hulu recently did.
"Star Trek" is just the beginning for CBS, which will fund more original programs for All Access in the future, Moonves said. He said he'd like to secure the rights to live football, and that the company is also investing in short-form series.
"Star Trek" could have generated meaningful revenue for the CBS broadcast network, said Brian Wieser, an analyst with Pivotal Research.
"They are giving up that opportunity," Wieser said, to instead invest millions of dollars in a show for online audiences.
Time Warner's HBO has made a series of deals to attract talent with experience reaching young viewers online. It commissioned Vice Media Inc. to produce a daily newscast and hired ESPN columnist Bill Simmons to host a weekly program and produce short videos for its streaming services.
HBO said Stewart will start by producing short clips for HBO's web platforms, HBO Go and HBO Now. He'll work with a cloud-graphics company to develop new technology to help make the snippets.
Stewart could have done whatever he wanted after leaving Comedy Central, where he hosted a show for 17 years. Rather than start a new program to compete with his former proteges, John Oliver and Stephen Colbert, he opted to chase the young viewers who watched his Comedy Central clips online.
"Appearing on television 22 minutes a night clearly broke me," Stewart said in a statement announcing his four-year deal with HBO. "I'm pretty sure I can produce a few minutes of content every now and again."
Though Stewart's clips may be available on what's now called linear television, the only mention of that in the statement was the phrase "other platforms."
Before it's here, it's on the Bloomberg Terminal.
LEARN MORE