Japan Tobacco Surges After Raising Dividend, Net Income Forecast
by
Cigarette maker's shares have biggest gain since November 2014

Room for fourth-quarter earnings to beat target: SMBC Nikko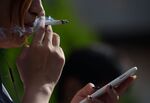 Japan Tobacco Inc. rose the most in a year in Tokyo trading after increasing its year-end dividend and net income forecast, saying it sees continued profit growth in the mid-to-long term.
The stock climbed as much as 7.9 percent, the biggest intraday gain since November last year. It rose 7.2 percent to 4,458 yen as of 10:44 a.m., while Japan's benchmark Topix index advanced 0.7 percent.
The Tokyo-based company increased its planned dividend per share for the year through December by 10 yen to 118 yen, and raised its net income forecast by 0.6 percent to 474 billion yen ($3.9 billion). Japan Tobacco, which is paying $5 billion for rights to sell Natural American Spirit cigarettes outside the U.S., said Wednesday that it expects the acquired assets to have more than 20 billion yen in operating profit in the fifth year after the transaction is completed.
The dividend increase and profit outlook "left a positive impression," Yoshiyasu Okihira, an analyst at SMBC Nikko Securities Inc., wrote in a note dated Wednesday. "There's room for their fourth-quarter earnings to come beyond their target."
Exiting Beverages
In August, Japan Tobacco raised its full-year net income projection by 22 percent to 471 billion yen, after withdrawing from the beverage and vending-machine businesses to focus on cigarettes. The former Japanese monopoly has bought brands and products abroad to counter a shrinking population and stagnating smoking rate at home.
"The ongoing solid business momentum gives us confidence to achieve mid- to long-term profit growth at constant FX, allowing us to revise the forecast for year-end dividend per share upwards," Japan Tobacco President Mitsuomi Koizumi said in a statement.
Japan Tobacco also adjusted its operating profit target to reflect an exit from the beverage business. Operating profit will probably be 554 billion yen for the current fiscal year based on continuing operations, unchanged from its previous forecast, the company said Wednesday. That compared with its August forecast of 668 billion yen, which included the discontinued operations.
Japan Tobacco is transitioning to a new accounting period matching the calendar year.
Before it's here, it's on the Bloomberg Terminal.
LEARN MORE