Japan Post Bank May Shift Some of Its Investments to Stocks
by and
Postal savings bank to take a cautious approach to asset shift

Stock listed Wednesday after three-pronged $12 billion IPO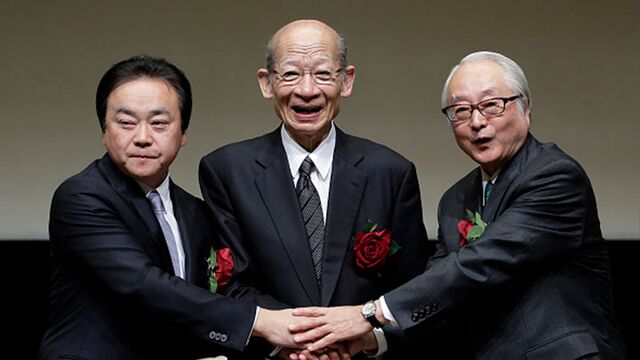 Japan Post Bank Co., whose debut as a public company will prompt increased scrutiny of its investment returns, will take a cautious approach as it shifts some of its 207 trillion yen ($1.7 trillion) asset portfolio away from government bonds.
The bank may boost its allocation to shares "a little," President Masatsugu Nagato said in an interview in Tokyo, estimating that equity investments could be raised from the current 2 trillion yen. Japan Post Bank is also considering allocating money to alternative investments such as private equity and U.S. real estate investment trusts, he said.
Wednesday's trading debut of state-owned Japan Post Holdings Co. and its banking and insurance units capped a decade-long political effort and sets the stage for a transformation of large parts of Japan's financial industry. The government raised about $12 billion in an initial public offering of the three companies, the biggest since Alibaba Group Holding Ltd.'s sale in September 2014, and the shares jumped in morning trading.
Analysts at firms including Amundi Asset Management have speculated that Japan Post Bank may emulate the $1.2 trillion Government Pension Investment Fund by shifting more of its portfolio into stocks. Ten-year JGBs yielded 0.315 percent Wednesday morning.
Nagato, 66, said the company could increase its 2 trillion yen in equities held as money in trust within its satellite portfolio. Stocks currently make up about 1 percent of its total asset holdings, far away from the 25 percent targeted by GPIF, the world's biggest pension fund.
GPIF Difference
"If we're talking about 2 trillion yen within a 200 trillion yen portfolio, I think that's certainly something we could discuss," Nagato said. "There's potential for shares to rise a little." The Topix index has declined about 8 percent from a peak in early August.
Nagato said that a major difference between Japan Post Bank and GPIF is that his company's liabilities are mostly made up of deposits rather than long-term pension money, meaning it has a shorter investment horizon. The bank will seek returns by putting deposits into managed funds, "not by holding 25 percent in stocks like GPIF," he said.
Shares of Japan Post Bank surged 15 percent to 1,668 yen at 2:08 p.m. in Tokyo. Its parent climbed 18 percent to 1,646 yen and Japan Post Insurance Co. soared 51 percent to 3,320 yen. Strong demand for the shares prompted the government to price all three stocks at the top end of marketed ranges last month. Some 80 percent of the IPO was offered to domestic investors, mostly individuals, and the rest to foreign institutions.
Japan Post Bank has already begun diversifying away from government bonds, reducing the holdings to 49.2 percent of its portfolio at the end of June. It said in April that it plans to increase investments in assets aside from the nation's sovereign bonds by 30 percent to 60 trillion yen in the year ending March 2018. The bank forecasts profit will decline 13 percent to 320 billion yen in the year ending March.
JGB Holdings
While Nagato said he doesn't have specific targets for its Japanese government bonds, "given the current levels, holdings won't be going up." The bank has recruited about 10 people to manage its assets, he said. It hired Katsunori Sago, former vice chairman of Goldman Sachs Group Inc.'s Japan unit, earlier this year as head of asset management.
Japan Post Bank, which is largely restricted from lending, is seeking to boost its fee business by selling investment products to customers who are seeking to do more with their savings than park the money in deposits, said Nagato, a former chairman of Citigroup Inc.'s Japan unit who joined the Tokyo-based company in May.
He said he wants to double investment-trust assets to 2 trillion yen quicker than the stated target of March 2018. The company formed a venture with Nomura Holdings Inc. and Sumitomo Mitsui Trust Holdings Inc. this year to develop products that encourage risk-averse depositors to purchase investment trusts.
"We've only got 1 percent of the 100 trillion yen investment-trust market, yet our share of deposits is 20 percent," he said. "I think we can get more."
(An earlier version of this story was corrected to remove an erroneous reference to Japan Post Bank potentially buying 2 trillion yen of shares.)
Before it's here, it's on the Bloomberg Terminal.
LEARN MORE