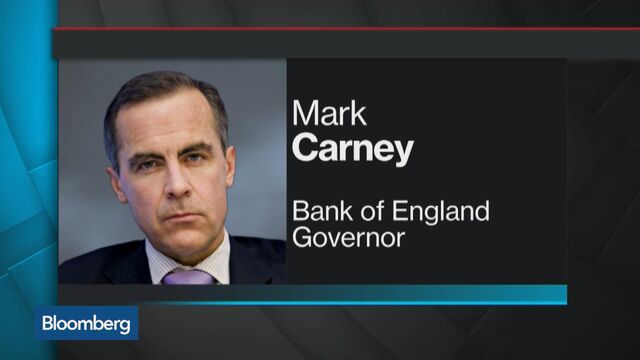 Things were looking decent for the global economy at the beginning of the year. U.S. employment was closing in on full capacity, emerging-market giants such as China and Brazil were seen holding up and it looked like 2015 would be the year for central banks around the world to begin normalizing policy. 
Then commodity prices kept on falling. The U.S. recovery started to slow down, and the Chinese economy really started slowing down. 
As a result, forecasting benchmark interest rates has proven quite difficult this year. Of 28 major central banks around the world, analysts have missed the mark on 20 of them, or 71 percent, mainly by underestimating how low rates would go — but also the extent of tightening by some banks.

"Compared with earlier this year, the general misdiagnosis for central bankers has been momentum in global growth coupled with the resilience in disinflation pressures," Mike Moran, head of Americas economic research at Standard Chartered Bank, said from New York. "This has made forecasting a big challenge." 
Here's how those 20 break down: Twelve central banks now have lower interest rates than was forecast for the end of the year, based on our original February analysis for this group, with seven of those easing more aggressively and five opting to leave their rates unchanged instead of tightening them. The other eight central banks now have higher rates than forecast, almost all in emerging-market countries that raised borrowing costs to curb rising inflation amid sluggish growth. Just one — Brazil — tightened more than projected.
Analysts nailed the remaining eight central banks, with three easing rates and five leaving them unchanged. 
In February, most economists expected the Federal Reserve to raise its benchmark interest rate in June. Those expectations evaporated as first-quarter growth slowed; analysts are now betting on liftoff in December, following market turmoil that helped ward off a September increase. Similarly, the Bank of England is forecast to begin tightening in April of next year, with economists previously expecting a September 2015 hike.
Analysts got it right on Russia's central bank, which has lowered its key rate five times to the current 11 percent level, after raising to 17 percent last year to prevent a ruble collapse.
Economists underestimated how far the People's Bank of China would go to protect the world's No. 2 economy, as the bank cut the benchmark interest rate six times in the past year to a record-low 4.35 percent, compared with February's year-end forecast of 5.35 percent.
Of the seven countries in the group that have boosted rates so far this year, most have done so in an effort to temper high inflation and not because of improving economic conditions. One of the most extreme cases is Kenya, which has raised its main rate by three percentage points, to 11.5 percent, as the nation's currency slumped.
Brazil's central bank has increased the benchmark Selic rate to 14.25 percent this year despite a recession. Officials raised the rate five times in an effort to temper high inflation brought on by looser fiscal policy and a weak currency. The central bank has now been on hold for the past two meetings, in hopes that price gains will slow.

More changes could still be coming among the central banks. New Zealand and Russia are projected to ease again before the end of the year. Central banks in the U.S., Mexico and South Africa are all expected to tighten policy in 2015 and continue in 2016. Brazil stands out in the easing pack with a projected rate cut of more than 1.5 percentage points by the end of next year.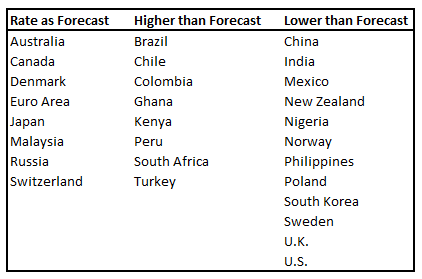 Before it's here, it's on the Bloomberg Terminal.
LEARN MORE