India Watching If Modi Wave Still Strong in Key State Vote
by and
Exit polls in Bihar state election are due after 5:00 p.m.

Modi win gives him momentum, a loss sets back economic agenda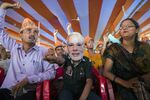 India will get its first indication on Thursday of whether Prime Minister Narendra Modi passed his biggest political test of the year.
Voters in Bihar, one of India's poorest states, have been casting ballots over the past four weeks in a closely fought election that comes at a crucial time in Modi's tenure. Exit polls will be released after voting ends at 5:00 p.m., ahead of official results on Nov. 8.
"Investors are watching these elections closely," said Jay Shankar, chief economist at Religare Capital Markets Ltd. in New Delhi. While a victory would revive momentum for Modi, a significant defeat "can be a huge sentiment dampener for people looking at putting in longer term money in the country."
State election wins are crucial for Modi to control the upper house of parliament, where opponents have blocked key bills like a nationwide goods-and-services tax. While Bihar by itself won't tilt the balance of power, it will set the tone for about 10 other state contests over two years that could give Modi control.
"At the end of the day, it will be the numbers that count in a democracy," Finance Minister Arun Jaitley said in a Nov. 2 interview. "I can tell you after the Bihar elections, numbers will improve."
Jaitley said India would press forward with reforms in the national parliament no matter what happens in Bihar. These include a bankruptcy law, changes to foreign direct investment rules and a faster dispute resolution mechanism for public contracts.

Investors want Modi's Bharatiya Janata Party to win, said Pankaj Sharma, head of equities at Equirus Securities. As per election rules, opinion polls have been banned since voting began on Oct. 12. Bihar has 243 seats up for grabs.
"If the BJP loses the election, there would be some selling," he said. India's benchmark S&P BSE Sensex Index, which is down 3.4 percent this year, could fall as much as 3 percent over a few days in that scenario, he said.
Surjit Singh Bhalla, a former World Bank economist and chairman of Oxus Research and Investments in New Delhi, predicted in the Indian Express that Modi's allies would win only a quarter of total seats because his opponents are more united than in last year's national election, when the BJP won 22 of 40 seats up for grabs in the state.
GST Fate
The biggest question is whether the result will impact the passage of the GST in the winter session of parliament, which may start this month. In recent weeks, the Congress party has accused Modi of creating a culture of intolerance after he waited more than a week to condemn the murder of man for killing a cow, an animal considered sacred in Hinduism.
"I don't see the opposition will suddenly be humbled even if they win," Samir Arora, Singapore-based founder of hedge fund firm Helios Capital Management Pte., told Bloomberg TV India. "The fight is too much. The next session of parliament is going to be written off."
Modi has invested himself heavily in the campaign. Over the past four months he addressed about 30 rallies in Bihar, one of India's least developed states where about 100 million people live. The average income is less than $2 a day.
While Modi has largely stuck to his message of economic development, he has also described himself as "extremely backward" to appeal to the large number of voters on the low end of India's ancient caste system. His party also released an advertisement accusing its opponents of repeatedly insulting cows.
Untrustworthy Outsider
Modi's opponents, a loose alliance of caste-based parties, have sought to portray him as an untrustworthy outsider who has failed to rein in consumer prices and bring back illicit funds from abroad. They are also touting the accomplishments of current Chief Minister Nitish Kumar.
Under Kumar, Bihar's economic expansion has averaged more than 10 percent a year, exceeding the national rate. Kumar's supporters credit him with restoring law and order to Bihar and providing residents with roads, electricity and food.
A loss for Modi risks hurting him in other state elections, said Paranjoy Guha Thakurta, a Delhi-based political analyst.
"If the BJP fails to get a majority, it will not just weaken Modi and his position, it would also expose the limitations and constraints of this kind of excessive personalization of India politics," said Guha Thakurta, who has written about Indian politics for more than three decades. "It will mark the beginning of the coming together of anti-BJP forces."
Before it's here, it's on the Bloomberg Terminal.
LEARN MORE