Hungarian Plan to Ease Policy Without Rate Move Weighs on Forint
by and
Hungary to focus on `non-conventional tools,' avoid rate cuts

Forint retreats most in emerging markets against euro
Hungarian central bank Vice President Marton Nagy heaved pressure on the forint with a pledge to ease monetary conditions using "non-conventional" tools without cutting interest rates further.
The currency dropped 0.3 percent to 314.16 per euro by 3:36 p.m. in Budapest, resisting a rally that lifted 20 out of 24 emerging-market peers on Wednesday. While the National Bank of Hungary won't cut the benchmark from a record-low 1.35 percent because the effect would be limited, policy makers will expand the use of interest-rate swaps and deploy one or two other tools, Nagy told reporters in Budapest on Wednesday, without elaborating.
"We have to get used to a weaker currency as the central bank has no exchange-rate target," said Gergely Palffy, an economist at Raiffeisen International Bank AG's Hungarian unit, who expects the forint to weaken to 320 per euro by the end of 2016 from 315 at the end of this year.
No Risk?

The central bank "isn't concerned by stability risks posed by the forint" after the phasing out of households' foreign-currency loans earlier this year and cuts in the foreign-currency share of government debt widened room for monetary policy, Nagy said.
The monetary authority's steps underscore concern over a slowdown in economic growth next year as European Union funding, a major source of the expansion, will drop off from 2016 and authorities struggle to kickstart market-based lending. The central bank kept its benchmark rate unchanged in October for a third month and Nagy has said it may remain unchanged until as long as 2019.
"Hungary's central bank will shift its focus from the benchmark rate to non-conventional tools, as the latter are much more efficient and can be better targeted," Nagy said. "Hungary won't cut its benchmark rate further."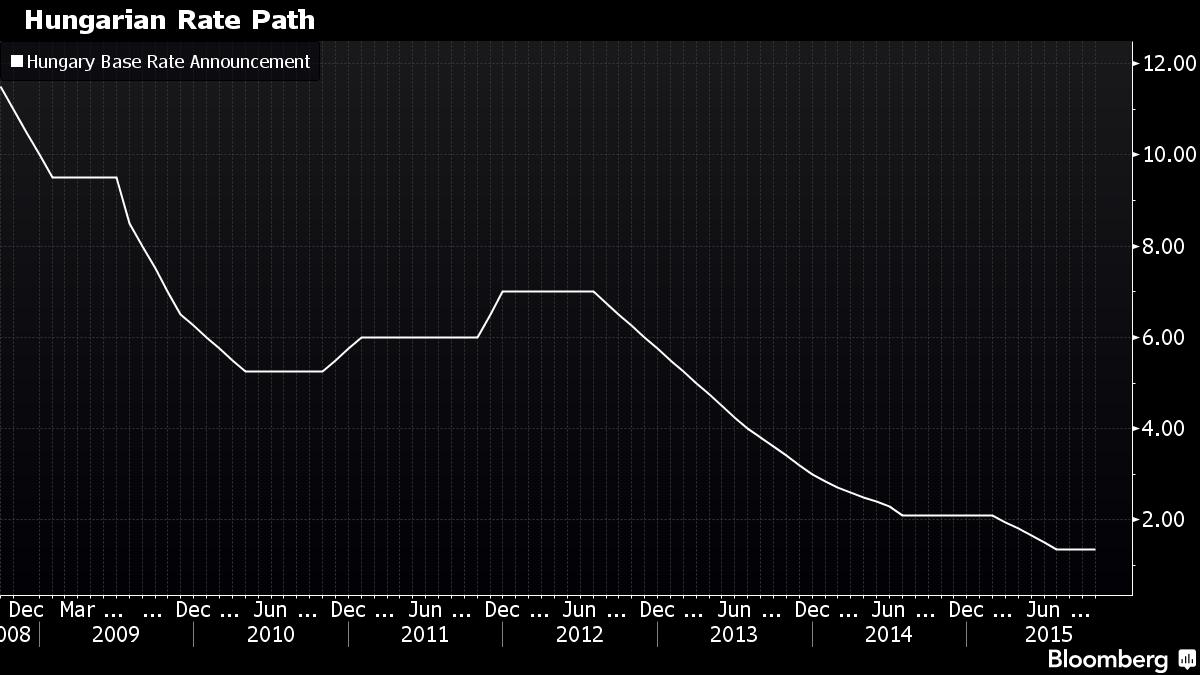 The central bank on Tuesday announced new incentives for banks to step up lending, including by assuming partial credit risk via interest-rate swaps and lowering supervisory capital requirements for qualifying banks that intensify credit activity.
That will run parallel to the Funding for Growth plan, which the central bank will start to phase out from 2016. The program extended free funding to lenders as long as banks passed them on to small- and medium-sized companies at no more than 2.5 percent interest.
Nagy's "dovish comments" opened the way "for further forint underperformance," Morgan Stanley strategists including London-based James Lord said in an e-mailed report.
Before it's here, it's on the Bloomberg Terminal.
LEARN MORE