Activist Investors Are Finding It Easier Than Ever to Get Board Seats
by and
Yum!, Sysco, ConAgra among firms capitulating to shareholders

`These guys don't bite if you listen to them,' says investor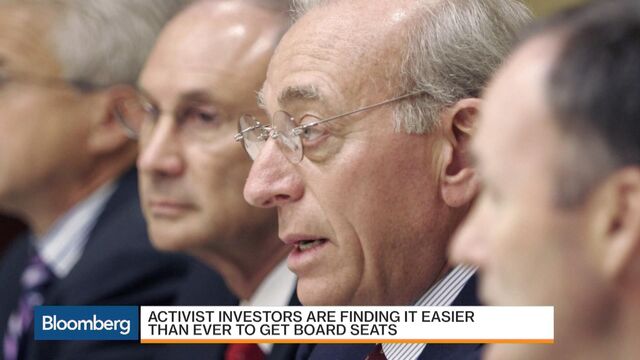 U.S. companies are capitulating faster than ever to outspoken investors.
Sysco Corp. took all of six days to give board seats to activist shareholder Nelson Peltz and his Trian Fund Management partner Josh Frank after they went public with their campaign. Carl Icahn landed two directorships at Cheniere Energy Inc. just 18 days after requesting them, and two more at Freeport-McMoRan Inc. after 41 days.
Activist Keith Meister got a seat on the Yum! Brands Inc. board 167 days after pushing for one. And just four days later, Yum announced it was separating its China business, a move his Corvex Management had been urging.
The quick reactions show how companies are deciding that sometimes it's better to compromise than mount aggressive defenses. Putting an activist on a board early avoids the costs, distractions and reputational damages risked in a potential proxy fight -- and brings behind closed doors contentious discussions about spinoffs, buybacks or asset sales. It also reflects the heightened pressure on corporate directors to show they're acting on behalf of shareholders and willing to buck management.
Avoiding Fights

"Companies are well aware of the time, distraction and expense involved in defending against an activist proxy fight and many are looking for avenues to avoid those fights in a way that benefits both sides," said David Hunker, head of shareholder activism defense at JPMorgan Chase & Co.
This year, companies have settled within 56 days on average after an activist demands board representation, compared with 67 days last year and 74 days in 2013, data from Activist Insight show. What's more, activists were successful about 74 percent of the time last year in getting companies to make at least some of the changes they requested, according to the report, compiled for an October conference hosted by Schulte Roth & Zabel, a law firm that often works for activists.
Even this year's fight at DuPont Co. proved to be a cautionary tale that hasn't been lost on corporate America. Former Chief Executive Officer Ellen Kullman won a proxy battle to keep Peltz and his three other nominees off her board in May, only to watch the stock tank and lose her job five months later. DuPont shares have climbed more than 20 percent since Kullman announced her retirement.
ConAgra Seat
Kullman's resignation, on Oct. 5, came hours after Trian co-founder Ed Garden said the firm had increased its stake. DuPont's interim CEO Ed Breen is already making changes likely welcomed by Trian, including expanding cost cutting, reevaluating capital spending and holding talks on a potential deal involving its agriculture unit. Trian declined to comment.
A slew of other companies quickly granted directorships to activists this year. Barry Rosenstein's Jana Partners got two seats at ConAgra Foods Inc., 20 days after it had sought an overhaul following the packaged food maker's disappointing acquisition of Ralcorp Holdings Inc. Baxter International Inc. gave one seat and a say on another to Dan Loeb's Third Point within 56 days. Citrix Systems Inc. added Jesse Cohn, who oversees U.S. activism for Elliott Management Corp., to its board 47 days after he asked.
'No Debate'
"These guys don't bite if you listen to them, they're there to help out and give a different view point," said Ken Squire, who runs the 13D activist tracking fund and website 13D Monitor. "Debate is good in a board room, and without an activist, there's often no debate."
To be sure, getting board seats quickly doesn't always constitute a victory for activists or a loss for companies, said Eleazer Klein, co-chair of Schulte Roth & Zabel's global shareholder activism practice. Being too quick to compromise may leave an overhaul unfinished if companies resist demands for more significant corporate changes.
"Just having one or two directors is often a suboptimal outcome for the activist," said David Whissel, director of research at Proxy Mosaic, a corporate governance research and proxy advisory firm. "It's not like the activists always see the settlement as a win, sometimes it really is a settlement and they're not particularly happy with it."
Returns
While companies are caving more quickly to their demands, activists in this year's volatile markets have had a tough time boosting their results. The 13D Activist Fund, which tracks selected U.S.-listed target companies, has fallen 4.8 percent so far this year in its institutional share class, compared with a gain of 4.2 percent for the S&P 500 Index, including dividends. Last year, the fund returned 15.5 percent, beating the S&P's 13.7 percent gain, according to data compiled by Bloomberg.
Still, it's unlikely the recent results will curb their activity. Funds managed by activists climbed to $129.7 billion as of mid-2015, almost doubling from the $65.5 billion they had to play with in 2012, data from HFR show.
"Every director and CEO today, no matter how big or iconic their company, is nervous about activists and should be because no one's immune," said Bill George, a director at Goldman Sachs Group Inc. and a Harvard Business School professor.
Before it's here, it's on the Bloomberg Terminal.
LEARN MORE