FanDuel CEO: Expect Fewer Ads, More Laws, and No IPO Anytime Soon
Nigel Eccles doesn't foresee any daily fantasy sports company going public in the near future.
by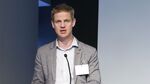 After spending the last two months promising to make you rich, the chief executive of FanDuel admits his daily fantasy sports site may have gone a bit overboard.  "We definitely got creative burnout pretty darn quickly," said Nigel Eccles in an wide-ranging interview with Bloomberg on Tuesday, in which he also touched on regulation, taking the company public, and the potential for a merger with competitor DraftKings. "People, when they saw the ad for the 87th time, they thought, I'm sick of this," he said.  
The ad blitz was more than annoying. It was expensive — FanDuel has spent more than $100 million on advertisements since August — and raised the profile of daily fantasy sports at the same time that questions began to surface about the basic fairness of the games. New Jersey Congressman Frank Pallone cited the advertisements in mid-September during his call for a hearing on the legality of daily fantasy sports. Soon the question of regulation was a national topic of discussion, even inspiring a question in the most recent Republican presidential debate.
Eccles acknowledges that regulation is on the way — and even says its a good idea. Together with DraftKings and the Fantasy Sports Trade Association, FanDuel recently hired a lobbyist to push for favorable state legislation. Eccles thinks that a handful of states will pass consumer protection laws in the next year. While regulation could come with an additional tax burden, "that's not come up as much as we've thought," Eccles said. "I assumed it would have been high on the agenda." 
Under the circumstances, an IPO is off the table for the company, which is reportedly valued at $1.3 billion. Eccles says that FanDuel doesn't need to raise any more money at this point, and that the regulatory landscape for daily fantasy needs to stabilize before any company goes public. An IPO would only work, he added, for a company that is both growing and turning a profit. Neither FanDuel nor DraftKings has managed to pull that off yet. 
For the last month, DraftKings and FanDuel have been seeing less money coming into their big tournaments. The total entry fees last weekend for both companies are down about 13 percent from their peak on October 11. Eccles says that FanDuel has always seen a contraction at this time in the NFL season, and that the NBA will replace the lost business. He says this week will be the biggest week in FanDuel's history. 
At the same time, Eccles said the company will eventually chose profit over growth, saying that the company could become profitable immediately by cutting its spending on ads. After two months of heavy spending, the company has dropped off the list of top ten television advertisers, as has DraftKings. Eccles says that FanDuel will focus less on television in the future and more on cheaper, more targeted digital ads. 
The company will also dial back the emphasis on cash prizes, which Eccles thinks FanDuel talked about too much because it struggled to make sexy the non-monetary appeals of fantasy sports. "It's kind of hard to sell the research: 'Oh this is so much fun, doing spreadsheets and going to all these websites,'" he said. "The money is tangible." When the NFL season winds down in January, he says, the company's executives will plot their strategy for next year. 
One thing they won't be considering, he says, is a merger with DraftKings. Jason Robins, DraftKings chief executive, has expressed interest in combining the companies. Eccles says he isn't even tempted. FanDuel and DraftKings essentially run the same business, and Eccles doesn't think that DraftKings does it nearly as well. Specifically, he derided a deal with 21st Century Fox where Fox invested $150 million in DraftKings in exchange for a commitment to spend $250 million in advertising on the Fox Sports Network.
"If we merge, we take on those deals that we turned down. That doesn't improve our economics, it makes it worse," said Eccles. "I can see why it would be attractive to them. I don't know why they think it would be attractive to us." 
Before it's here, it's on the Bloomberg Terminal.
LEARN MORE