Egypt Says Voice Recorder From Crashed Jet Suffered Damage
by and
More work needed before probe can access critical minutes

Information from flight-data device successfully extracted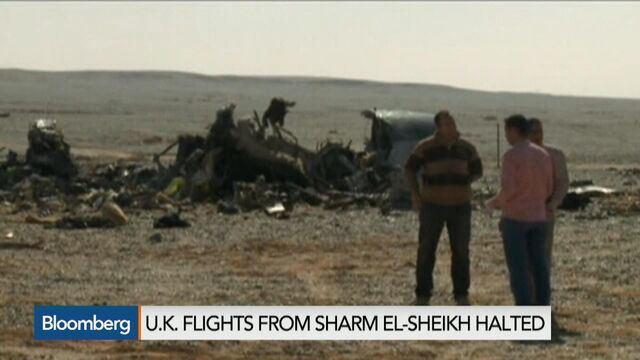 The cockpit voice recorder from the Russian jet that crashed in the Sinai desert at the weekend killing 224 people is "partially damaged" and will require extensive work to allow investigators to listen to the final minutes of the flight, Egypt's civil aviation ministry said Wednesday.
"Consequently, no further comment on the content of the CVR can be made," the ministry said in a statement. "Examination of parts on site is continuing."
Information from the second of the plane's so-called black boxes, the flight-data recorder, proved to be more easily accessible and has been successfully downloaded, it said. The device registers digital readings across hundreds of parameters such as air speed, altitude, engine thrust and pitch.
Egyptian specialists leading the probe have until now focused on identifying and cataloging debris and bodies at the crash site, work that's involved numerous helicopter trips between Cairo and the desert. They'll be joined by experts from France, Germany, Russia and Ireland in working on the recorders.
Speculation about Saturday's crash has focused on a wreckage pattern suggesting the Airbus Group SE A321 broke up in midair, with a terrorist attack or catastrophic structural failure touted as possible causes.
Egypt has said there's no evidence that local militants aligned to Islamic State attacked the plane, despite claims from the group, while Metrojet, the flight's operator, reckons the jet was well maintained and mechanically sound.
"All information being circulated and local and foreign media is nothing but unconfirmed speculation," Egyptian Civil Aviation Minister Hossam Kamal said.
Before it's here, it's on the Bloomberg Terminal.
LEARN MORE