Economic Takeaways of U.S. Service Industries, Private Payrolls
by and
ISM's non-manufacturing gauge at second-highest in a decade

ADP report shows companies added 182,000 jobs in October
What you need to know about Wednesday's U.S. economic data:
ISM NON-MANUFACTURING (OCTOBER)
Climbed to 59.1 from 56.9 and exceeded all estimates in a Bloomberg survey
Gauge of services employment second-highest since August 2005
ISM's services index 9 points higher than group's factory gauge, the widest differential since 2000
Services employment gauge 11.6 points above factory employment index, biggest such spread since May 2001
The Takeaway: While America's factories are spinning their wheels, service industries are on cruise control. The dichotomy is explained by dismal trade prospects, a first-half inventory overhang and a stronger dollar -- a combination that's socked manufacturers. Because the U.S. is a service-based economy, representing almost 90 percent of GDP, the pickup in the ISM's non-manufacturing gauge shows global economic malaise is hardly weighing on domestic purchasers, one reason hiring remains pretty steady.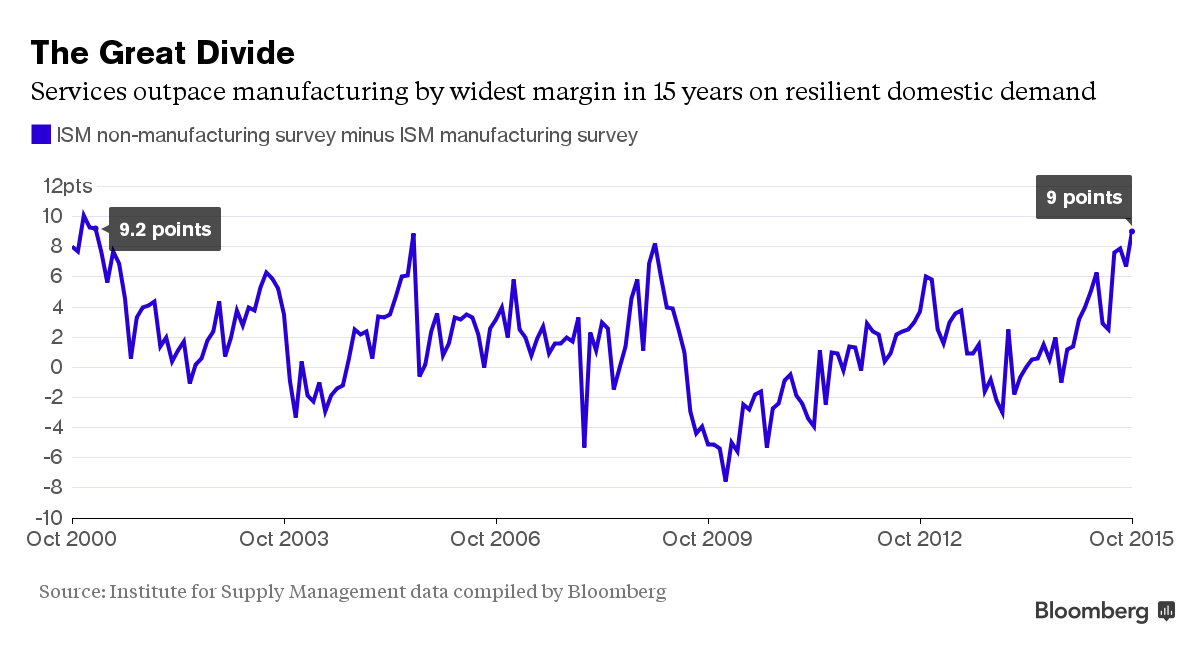 ADP EMPLOYMENT (OCTOBER)
Rose 182,000 after a revised 190,000 increase (previously up 200,000)
Service industries added 158,000 workers and goods producers (construction included) took on another 24,000
Half of the October job gains occurred at small companies with less than 50 employees
The Takeaway: ADP's payrolls tally provides at least some comfort that the government's jobs report on Friday will show gradual improvement in the labor market. The three-month average is on par with the mean since the start of 2010. During that span, the U.S. jobless rate has fallen from 9.8 percent to 5.1 percent. Construction employment gains in October alone (35,000) were more than adequate in offsetting a 19,000 drop in factory payrolls in September and October combined.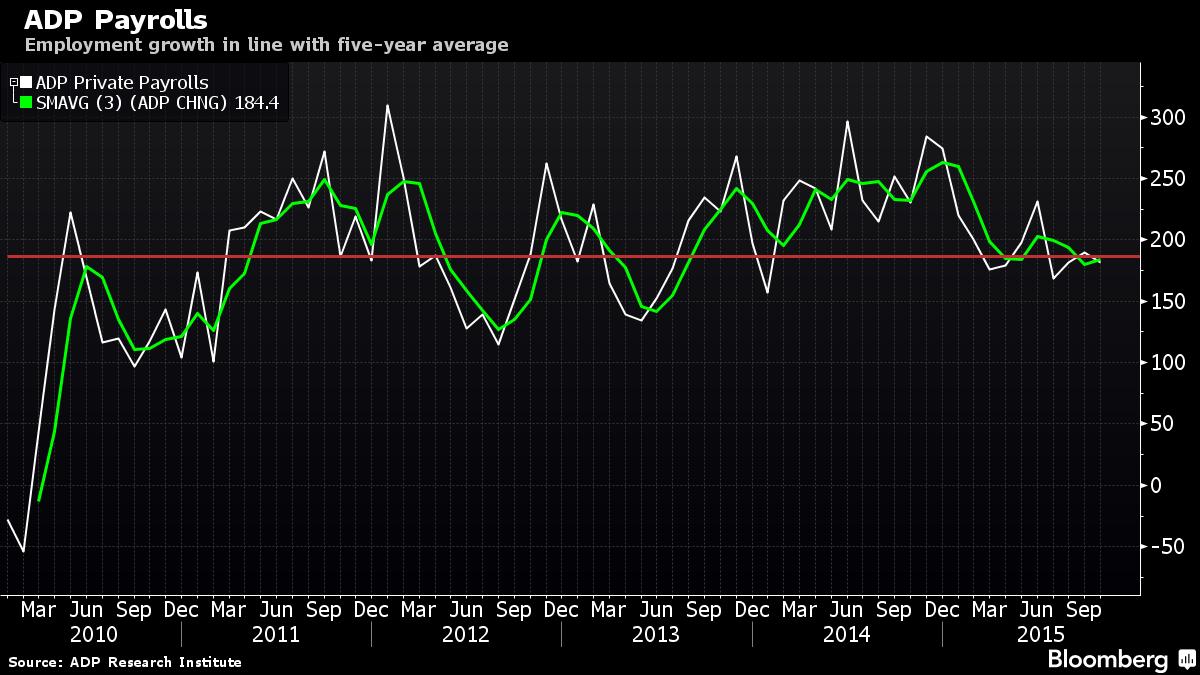 TRADE DEFICIT (SEPTEMBER)
Shrank 15 percent from August to a seven-month low of $40.8 billion
Value of imported petroleum fell to lowest level in more than a decade
China replaced Canada as America's top trading partner, reflecting the influence of declining oil prices
The Takeaway: The September deficit means trade had little impact on the economy in the third quarter. Like the ISM's services data, the report eases concern that the U.S. is succumbing to a slowing in overseas markets and a stronger U.S. dollar. At the same time, an increase in exports was led by volatile categories including artwork, which may signal the gain in shipments to other countries could reverse next month.
Before it's here, it's on the Bloomberg Terminal.
LEARN MORE