Brevan Howard's Assets Said to Shrink 11% in Nine Months
by
DW Partners separation resulted in additional $5 billion fall

Macro hedge funds have struggled to make money this year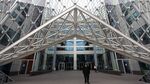 Assets managed by Brevan Howard Asset Management, one of Europe's biggest hedge fund firms, declined by about $3 billion to $24.8 billion in the nine months through September amid a near-zero return from its main macro fund, according to a person familiar with the matter and reports sent to investors.
The decline excludes an additional $5 billion moved out of the firm when its affiliate manager, DW Partners, separated in January, the person said, asking not to be identified because the matter is private. The rest of the drop is due to investor redemptions and currency fluctuations after its main hedge fund, Brevan Howard Fund Ltd., recorded its first ever annual loss last year, according to the person and investor reports. A Brevan Howard spokesman declined to comment.
The asset manager runs hedge funds with share classes measuring their performances in euro, British pound and Japanese yen. The three currencies depreciated against the U.S. dollar in the first nine months of the year, leading to a fall in assets measured in dollars. Brevan Howard's funds have received about $2 billion in inflows this year, the person said.
The main hedge fund gained 0.2 percent in the first nine months, according to one of the newsletters and the person. That compares with an average 1 percent decline by macro hedge funds in the period, according to data provider Hedge Fund Research.
Macro hedge funds make bets on asset classes such as interest rates and foreign exchange based on their research of broad economic trends. The funds have struggled to make money amid a lack of volatility as a result of loose monetary policy by central banks across the globe.
The outflows comes as Brevan Howard, which managed $40 billion in 2013, competes with one of its former top traders, Chris Rokos, who returned to the hedge-fund industry in September with his own offering. Rokos co-founded Brevan Howard and was managing more than $1 billion within the first month of opening his own hedge fund in London, two people with knowledge of the matter said in October.
Hedge-fund manager Michael Platt's BlueCrest Capital Management has also suffered from billions of dollars in withdrawals after lackluster returns and the departure of the quantitative investment team led by Leda Braga. The firm had assets of $37 billion at its peak in 2013 and managed about $7.9 billion on Oct. 1.
Fortress Investment Group LLC said last month it's closing its $2.3 billion macro business run by Michael Novogratz after posting losses for almost two years, while Bain Capital said it's shuttering its macro fund, which had more than three years of declines.
Before it's here, it's on the Bloomberg Terminal.
LEARN MORE