Pitch Man
Ben Carson Accuses Rivals of Planting Mannatech Questions
The Republican front-runner suggested a question at last week's Republican debate may have come from one of his competitors.
By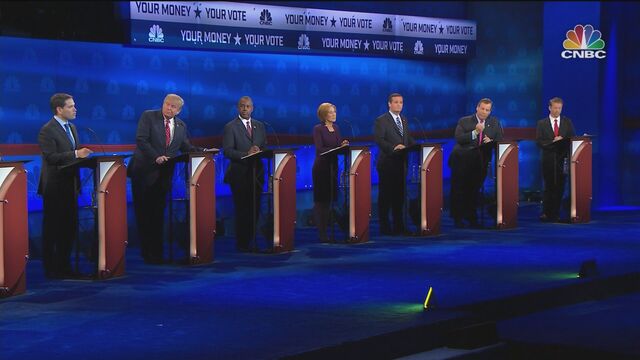 As he rises in the polls, Ben Carson and his presidential campaign are moving quickly to distance the retired neurosurgeon from Mannatech, Inc., a controversial nutritional supplements company that paid $7 million to settle a case brought by the Texas attorney general over allegations that the company deceptively marketed its products as cure-alls for diseases like cancer.
In a radio interview Tuesday, the Republican candidate accused a rival campaign of planting the question he was asked about his relationship with the company during last week's debate. Later, in a question-and-answer session with reporters in Tampa, where he was signing copies of his latest book, A More Perfect Union, Carson wouldn't name which campaign he had in mind.
It was the latest effort by the new Republican presidential front-runner to put the controversy behind him and distance himself from a company he once seemed to favor. In an interview with Bloomberg last week, Carson's top business adviser, Armstrong Williams, described officials of the company as "shady," contending that they ambushed Carson at a forum he filmed in January 2014 that aired the following March on a PBS affiliate in Phoenix. 
According to Williams and Richard Taylor, executive producer of the segment, Mannatech employees repeatedly approached Carson in between filming to coerce him into making comments beneficial to Mannatech. "I guess they were trying to force their agenda, but it didn't influence Dr. Carson," Taylor said. Williams told Bloomberg that Carson called him after the shoot and was angry about Mannatech's tactics at the taping. Taylor said Carson, who was not paid for the taping, was unaware that Mannatech distributor, The Platinum Group, sponsored the program.
Mannatech co-founder Marlin Ray Robbins taped a segment separate from Carson in which he praises the doctor's research. But the producer also told Bloomberg that it was not until recently—after Carson was questioned about his relationship to Mannatech at a prime-time presidential debate—that he learned the neurosurgeon was upset about his encounter with company representatives at the taping.
A year before, Williams told Bloomberg, Mannatech officials approached Carson to appear in a 2013 video for an African orphanage charity and then edited the videos to make it look as if he were endorsing the company. Mannatech did not respond to multiple requests for comment. The company admitted no wrongdoing in settling the case.
At last week's debate, Carson called suggestions that he had a formal relationship with the controversial supplement-maker "total propaganda." Still, Carson has acknowledged that he has delivered paid speeches to the company and takes Mannatech supplements, which he has called "a good product."
Carson campaign spokesman Doug Watts said that although Carson uses Mannatech supplements, "he was not paid to endorse the product," and that Carson's contract for the speeches was with the Washington Speakers Bureau, not Mannatech.
"There has never been another contractual relationship between Dr. Carson and Mannatech," Watts said. "In fact, the speeches were a contract between WSB and Mannatech—not Carson."
Carson's popularity as an author and speaker and his ascent to the top of the Republican polls has been constructed on the remarkable personal narrative of an African-American from inner-city Detroit who went on to perform groundbreaking brain surgeries, including the first operation to successfully separate twins conjoined at the head in 1987. 
During a 2004 speech at a Mannatech conference in Portland, Carson recalled how he relied on his Seventh-Day Adventist faith to beat cancer as an adult, and went on to discuss "glyconutrients"—Mannatech's name for vitamin supplements in their products—and how he first began taking the pills while recovering from cancer.
"Some people have concluded that I was cured without surgery and that I was just cured by the glyconutrients. Maybe it would have happened, maybe it would not have. I do not advocate abandoning traditional medical cures that have been shown to work. What I would however advocate is using natural products to supplement what's done by traditional medicine," Carson said in the 2004 speech, according to video.
He continued: "I'm not a Mannatech spokesman. I don't think that would be appropriate... [We] are figuring out ways to channel those people without me actually having to spend any time involved in doing that. I still take the products today, every single day."
Williams, in his interview with Bloomberg, portrayed Carson not as a paid endorser of Mannatech but as a religious believer, suggesting that Carson's faith may have played a role in Mannatech's appeal to him. Seventh-Day Adventists place a strong emphasis on maintaining a healthy diet, rooted in the writings of Ellen G. White, who co-founded the religion.
"No one is capturing this—nutrition and supplements with food and diet is a big part of the Seventh-Day Adventist faith. There's a deep connection here," Williams said. "He actually believed in the process. In his mind, they had a profound impact."