business
Communiques Won't Resolve Asian Sea Dispute, Official Says
By , , and
Meeting includes partners such as China and the U.S.

Officials failed to agree in recent years on South China Sea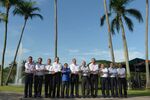 Joint declarations by Southeast Asian nations won't solve territorial disputes in the South China Sea and concluding a code of conduct for the disputed waterway should be a priority, said Malaysian Defense Minister Hishammuddin Hussein.
QuickTake Territorial Disputes
Hishammuddin made the comments as chairman of a meeting in Kuala Lumpur where defense ministers from the Association of Southeast Asian Nations and officials from partner countries such as the U.S., China and Japan failed to agree on a joint communique. The statement was scuttled by China's opposition to language on the territorial disputes in the waters that have come to dominate Asean meetings, The Wall Street Journal reported.
"The threat is not what is on a piece of paper," Hishammuddin said. "What is signed in the joint declaration is not going to resolve the issue of duplicating claims, nor is it going to wish the vessels that are in the South China Sea away. To dwell on the joint declaration is not going to solve the real problems."
Not Bad
Asean's failure to agree on a joint declaration is "not necessarily a bad thing" and it recognizes there are different considerations and points of view on the South China Sea, Singapore Defense Minister Ng Eng Hen said. Territorial disputes need to be resolved by claimant nations, and joint patrols with China would help reduce tensions, Indonesian Defense Minister Ryamizard Ryacudu said.
Concluding the long-stalled code of conduct is needed "to build mutual trust and confidence and maintain peace, security and stability in the region," Hishammuddin said in his chairman's statement.
The Asia Pacific region needs an inclusive security infrastructure that "respects rights, not might," U.S. Defense Secretary Ashton Carter told reporters after the Wednesday meetings.
No Sides
"I reminded everyone that the United States doesn't take sides in these maritime disputes," Carter said. "But we do take the side of peaceful resolution under international law. We urge all claimants to permanently halt land reclamation, stop the construction of these facilities and cease further militarization of disputed maritime features."
While U.S. naval presence in the South China Sea is not new, the scale of reclamations and militarization of the waters are, he said. The U.S. will continue to sail in international waters, he said.
China's claims to more than 80 percent of one of the world's busiest shipping lanes overlap with those of five Asean nations. Under President Xi Jinping, China has stepped up efforts to assert its control over the South China Sea, including building new islands that offer possible bases for its ships and planes. Tensions spiked last month when the U.S. sent a warship within 12 miles of one of China's new islands, saying the patrol was defending freedom-of-navigation in the area.
'Powerless Spectator'
China regretted there was no communique from the Kuala Lumpur meeting and blamed the failure to issue a joint declaration on a nation "out of the region," according to a statement from the Defense Ministry.
The lack of a joint statement "gives the impression that Asean has become a powerless spectator to rising tensions, and that U.S.-China rivalry has become one of the central drivers of the dispute," said Ian Storey, a senior fellow at the Institute of Southeast Asian Studies in Singapore.
Asean ministers, who work by consensus, have increasingly struggled to agree on the language in joint statements involving China and the South China Sea. In August, at a meeting of foreign ministers, a statement was delayed over "differences" on the waters. In 2012, Asean foreign ministers didn't issue a statement for the first time after failing to reach consensus.
Some Southeast Asian defense ministers on Tuesday welcomed the world's powers operating in areas including the contested South China Sea while warning they needed to stick to international laws.
Claimant States
Ministers from Malaysia and the Philippines backed the U.S. naval patrol, while Indonesia's Ryacudu said communication is important and the U.S. must abide by laws of the sea when carrying out patrols. Malaysia and the Philippines, along with Vietnam, Taiwan and Brunei also lay claim to parts of the waterway.
"It is very important that all major powers who have a stake, or feel that they have a role or responsibility in the region, be here," Hishammuddin said Tuesday on the sidelines of the meeting. "But the most important thing is that the presence of powers outside Asean, I hope, will not create a situation that will increase tensions, that will make the waters even more murky."
Malaysia doesn't see any issues with the U.S. patrolling the area as it's international waters, Hishammuddin said.
U.S. Pacific Fleet commander Harry Harris visited China this week and met General Fang Fenghui, chief of the People's Liberation Army General Staff. Fang said the U.S. patrol had created a "disharmonious atmosphere for our meeting and this is very regretful."
"Since ancient times the South China Sea islands have been Chinese territory and we are resolute in our determination and will to safeguard our sovereignty and maritime rights," Fang said.
(A previous version of this story misidentified the month of the U.S. naval patrol in South China Sea.)
Watch Next: China Says U.S. Patrol in South China Sea Threatens Peace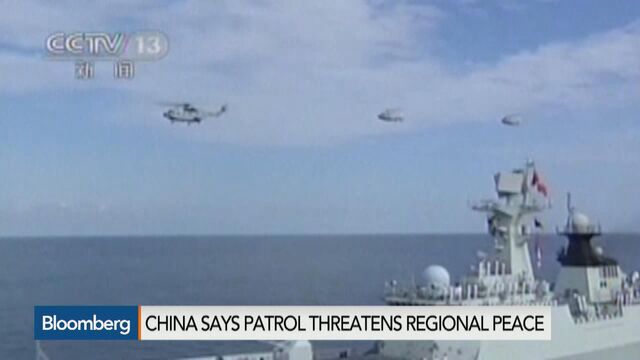 — With assistance by Chris Blake
(Updates with Carter's comments in sixth paragraph.)
Before it's here, it's on the Bloomberg Terminal.
LEARN MORE