With or Without Tim, Fridman Sees Brazil Telecom M&A Overdue
and
Brazil is attractive because of consolidation potential

LetterOne in talks to inject as much as $4 billion into Oi
Mikhail Fridman spent the past two years scouting for telecommunications assets before setting eyes on Latin America's most indebted phone company, Oi SA. The Russian tycoon is betting less on a quick recovery of Brazil's economy than on the billions of dollars in potential savings from a merger with a rival.
LetterOne, Fridman's investment company, agreed last month to begin exclusive talks with Oi to inject as much as $4 billion into the carrier and help it combine with Brazil's second-largest wireless provider Tim Participacoes SA, which is controlled by Telecom Italia SpA. Alexey Reznikovich, managing partner of LetterOne's telecoms and technology arm, said in an interview Tuesday that even if a deal with Rio de Janeiro-based Tim doesn't pan out, there could be other targets for Oi.
"We are very open to any kind of possibility," Reznikovich said from his London office. "The traditional telecom model is pretty much dead from an investor standpoint. It is possible to get returns and make money in the telecom industry as an investor only in special situations -- in situations where there could be potential in-market consolidation or a certain restructuring of the company or refinancing of the company."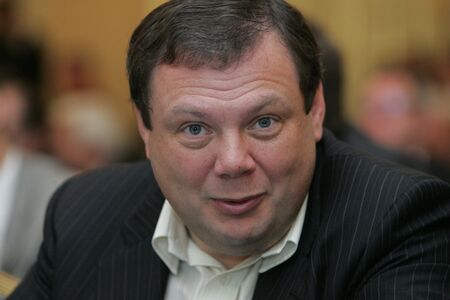 Combined, Tim and Oi, which ranks No. 4 in Brazil's wireless market, will have a share of about 44 percent, according to data from the Anatel regulator. The companies compete with Telefonica SA's local unit and Carlos Slim's America Movil SAB.
"The Brazilian market is very ready for market consolidation," Reznikovich said. "Given its structure, this is probably the most important factor."
Telecom Italia would only consider a deal with Oi if it can get control of the merged companies, according to two people with knowledge of the matter. The Italian carrier initially snubbed Fridman's proposal because LetterOne would probably have the majority, leaving it with a 35 percent holding, one of the people said. LetterOne wouldn't oppose to giving Telecom Italia control of the merged entity, another person said. Representatives for Oi and LetterOne declined to comment.
Oi's preference shares rose 3.8 percent to 2.20 reais in Sao Paulo on Tuesday. Tim added 1.7 percent to 8.59 reais.
LetterOne's proposal provided the impetus for a long-mooted consolidation in Latin America's largest telecommunications market. Last year, Oi hired investment bank BTG Pactual -- an Oi shareholder -- to explore an acquisition of Tim. BTG has been actively involved in the discussions, while no formal offer has been made, Reznikovich said.
Fridman, 51, has a net worth of $12.7 billion according to the Bloomberg Billionaires Index. After making his fortune on oil and banking, the businessman expanded into telecommunications in 2001, acquiring control of Russian carrier VimpelCom Ltd. with his partners. After expanding into former Soviet republics and buying assets in Italy, VimpelCom now operates in 14 countries.
Italian Merger
In August, VimpelCom agreed to merge its Italian unit, Wind, with Hong Kong billionaire Li Ka-shing's local wireless business, with the companies projecting savings valued at more than 5 billion euros ($5.5 billion) excluding integration costs.
VimpelCom, with headquarters in Amsterdam and shares traded in New York, will look at selling mobile towers and network assets to become leaner and may add new markets in eastern Europe or Asia, said Reznikovich, who is also VimpelCom's chairman. VimpelCom isn't interested in acquiring assets that TeliaSonera AB of Sweden recently put up for sale because of overlaps in countries such as Kazakhstan and Uzbekistan, he added.
"We need to revamp the entire model," Reznikovich said. "IT systems are outdated, there are different layers of them and you can't collect big data on users properly."
A big part of the reorganization will focus on cutting IT expenses and moving more sales and customer-service functions online, Reznikovich said. Some business units that have about 600 people in IT today will be able to operate with 50 once VimpelCom switches to new systems, he said.
The executive declined to comment on a $900 million provision VimpelCom set aside on Tuesday for potential fines as it awaits the outcome of Dutch and U.S. investigations into alleged bribes in Uzbekistan. VimpelCom shares fell 4.6 percent in New York trading. Telenor SA, VimpelCom's biggest investor after LetterOne, has said it would sell its one-third stake.
Vimpelcom has been "suffering from low free-float for many years," he said. "The exit will be quite useful for VimpelCom," which may explore a European stock exchange listing, he added.
Before it's here, it's on the Bloomberg Terminal.
LEARN MORE