Uber's China Rival Says Cash Burn Has Slowed With Lower Payouts
Bloomberg News
Didi Kuaidi says its taxi-hailing service almost at breakeven

Proposed ride-booking rules won't affect company's strategy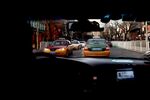 Didi Kuaidi, the ride-hailing service competing in China with Uber Technologies Inc., said it has slashed the subsidies it pays out to drivers and riders since the middle of this year, reducing its cash burn as the rising number of orders reduce the need for enticements.
The level of financial incentives last month were about a third of the level in June and July, Stephen Zhu, vice president of strategy and head of taxi services at Didi Kuaidi, said in an interview in Beijing on Tuesday. Some of its services like taxi-hailing are close to breaking even, he said.
"With the fast expanding business scale, density of car fleet and rising number of orders, drivers who signed up with us are no longer relying on subsidies to make money," Zhu said. "We are confident that we will generate good returns in the near future."
The decline in subsidies comes as the transport ministry released draft guidelines that prohibit Internet ride-booking companies to offer their services below cost in order to gain market share, describing such tactics as disruptive to "normal market order." The proposed regulations also codify requirements that vehicles used in hailing services must be registered for commercial use and that drivers have to obtain qualifications before being allowed to ferry fares.
Despite Didi Kuaidi publicly expressing its concern that the rules would force part-time or freelance drivers to exit the industry, Zhu said the company's overall strategy to create jobs and help commuters lower the costs of traveling remains unchanged.
Didi Kuaidi now handles an average of 7 million ride bookings a day in China, of which about 4 million are for Internet reservations of private cars, 2 million are for taxis and the remaining million orders are for car-pooling, he said.
Formed from a merger of two competing Chinese taxi-hailing apps in February, Didi Kuaidi said in August it completed a $3 billion financing round that will boost its cash reserves to more than $4 billion. The company has been locked in a race with Uber for market share, with both dishing out incentives to attract drivers and riders. Zhu said the company had nothing to disclose at the moment on fundraising.
— With assistance by Tian Ying
Before it's here, it's on the Bloomberg Terminal.
LEARN MORE