U.S. to Continue Keystone Review Despite Request for Pause
by and
Administration evaluating TransCanada request, officials say

White House spokesman questions motivation behind request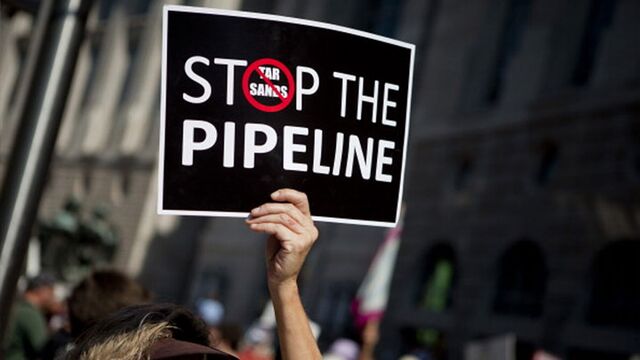 The U.S. State Department will continue reviewing the Keystone XL pipeline project even as it considers a request from builder TransCanada Corp. to pause its evaluation of the controversial project.
"We're going to get back to them; while that takes place we're not going to pause," State Department spokeswoman Elizabeth Trudeau told reporters in Washington on Tuesday.
The department didn't offer an estimate of when it would respond to TransCanada, and Trudeau said she didn't know whether the department would have to consult other U.S. government agencies. She also said she wasn't aware of any requirement for the U.S. to consult with Canada on the company's request.
TransCanada asked the State Department to put its review process on hold in a letter Monday, saying there was no need for the review to continue while it seeks approval from Nebraska authorities for the pipeline's route through that state. The request was seen by some analysts as an attempt to circumvent a possible rejection of the pipeline project by President Barack Obama by delaying a final decision until his successor takes office in 2017. The company has rejected that view.
White House press secretary Josh Earnest said Tuesday that the administration would examine what's motivating TransCanada's request.
"Given how long it's taken, it's -- it seems unusual to me to suggest that somehow it should be paused yet again," Earnest said. Reaching a final decision on the project by the end of Obama's second term remains "the current plan," he said.
Oil Sands and the Environment: QuickTake
TransCanada Chief Executive Officer Russ Girling, on a Tuesday earnings conference call, said the company's request to the Secretary of State John Kerry had nothing to do with politics. It was meant to let the outcome of a regulatory assessment of the pipeline in Nebraska be considered in the State Department's review, he said.
"We've tried to stay out of the politics of this situation and focus on the things that we're capable of doing and can control and that's the regulatory process," Girling said.
'Head Down'
"We've worked very hard for seven years to try to keep our head down and work our way through every twist and turn and every additional request through the regulatory process and we're intent on continuing to do that until we get to regulatory approval," he said.
Supporters of the $8 billion pipeline from the tar sands near Alberta, Canada, have argued the project would create construction jobs and drive down oil prices, which are already down 42 percent over the last 12 months amid a glut of crude. Environmental activists, including top Democratic donors, have spent heavily in hopes of defeating the project, which they say would drastically increase emissions blamed for global warming.
While Republican presidential candidates have said they support the Keystone pipeline, Democrat candidates Hillary Clinton, Kerry's predecessor as secretary of state, and Bernie Sanders have said they oppose it.
Before it's here, it's on the Bloomberg Terminal.
LEARN MORE