Two Years on, SGX's New CEO Seeks to Overcome Stock-Rout Fallout
by and
Bourse's share turnover increases 11% from a year earlier

Loh says fund raising `also about debt'; plans bond platform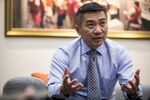 Singapore Exchange Ltd. Chief Executive Officer Loh Boon Chye says his top priority is to restore confidence in Southeast Asia's biggest stock market, where turnover has yet to recover from a mystery penny-stock crash more than two years ago.
Since taking the helm in July, Loh has been handling "to-do lists" from investors, brokers and listed companies who want him to revive interest in equities, he said in an interview this week. Loh's predecessor Magnus Bocker drew criticism for focusing on his derivatives business while investors and stockbrokers suffered an unexplained free-fall in three commodity companies in 2013 that wiped out $6.9 billion in market value.
"I like challenges," said Loh, a banker who used to run Asia-Pacific global markets for Bank of America Corp. Even though the penny-stock slump happened well before his tenure, he's so aware of the fallout that he has an acronym to describe it: ABL, the initials of the companies that plunged. "These are things that are out there and that clearly has a dent on confidence in trading. We need to overcome that."
Trading Slump
The value of shares traded in Singapore has increased 11 percent to a daily average of S$1.16 billion ($830 million) this year from the same period of 2014 as the exchange allowed trading in smaller chunks to attract individual investors. That's still about 25 percent lower than in 2013 before the penny-stock crash. Partly because of the trading lull, companies have looked elsewhere to list. SGX hosted seven initial public offerings worth S$103.9 million in the quarter through September, down from S$1.9 billion a year earlier.
"Singapore is a small city-state so it's never going to be up there with Wall Street or Shanghai," said Shane Oliver, a Sydney-based global strategist at AMP Capital Investors Ltd., which manages about $112 billion. "It's making sure that the country remains innovative, corporate governance remains high and capital can flow freely. That will keep investors on its side over time."
Loh, 51, says SGX is working on a bond-trading platform that will make it a more attractive place for companies to raise money. The facility will allow companies to sell bonds in smaller amounts instead of "multi-hundred million" dollars each time, he said.
Getting Liquidity
"This was really designed with a steering group -- buy side, sell side, existing banks," Loh said. "It's better to have a system to now be embraced by the users, then you have a greater chance of getting the liquidity."
Loh also plans to add currency products and last month started a customized index service in a move to help diversify the company's revenue. Derivatives and equities accounted for 41 percent and 25 percent of its most recent quarterly revenue. SGX shares climbed 2 percent to S$7.53, the biggest advance in four weeks. The benchmark Straits Times Index gained 1.4 percent.
"If you want to talk about scale, that's clearly one of our challenges," Loh said. "There's a broader value proposition. Yes, we would like more IPOs but fund raising is also about debt."
Securities-Fraud Investigation
Banks and brokers have sued to recover at least $230 million from the stock rout which led to the city's largest securities-fraud probe. The investigation continues and the authorities have said they're "sparing no effort" to identify any culprits.
Bocker, who led SGX for more than five years, didn't seek to extend his contract. A petition signed by more than 500 people sought to remove him as chief. SGX shares slipped 0.4 percent during his tenure, while the benchmark index advanced 21 percent. Since Loh started, the exchange operator's shares have fallen 9.1 percent and the equity gauge has dropped 8.2 percent. Analysts tracked by Bloomberg are the most bullish on the stock since 2011.
"I hope to make a difference. It's a high-profile job, I get that," Loh said, adding that he's a very private person. "I walked into this job knowing that."
Before it's here, it's on the Bloomberg Terminal.
LEARN MORE