Tesla Brings Seat-Making In-House to Secure a Steady Supply
by
Second-row seats limit ability to increase Model X production

Musk says `Companies build value by doing hard things'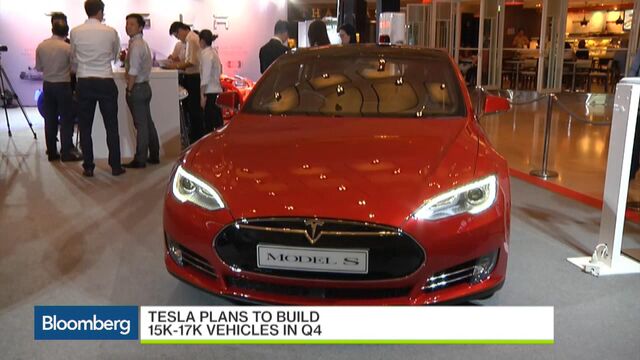 As Tesla Motors Inc. expands its product offerings and how fast it makes them, it's increasingly bringing manufacturing in-house. The latest: the Model X's second-row seats.
In August, Chief Executive Officer Elon Musk told investors it was difficult to make the seats, which he described as a "sculptural work of art, but a very tricky thing to get right." They were so challenging that they led him to reduce the electric-car maker's delivery forecast that month to as few as 50,000 from 55,000, which set off a wave of skepticism over his ambitious plans.

"We have substantially in-sourced the seats at this point," Musk said Tuesday during the third-quarter earnings call with analysts. "Tesla is producing its own seats."
Musk has long been a fan of doing things on his own as much as possible, such as building the world's largest battery factory outside of Reno, Nevada, to streamline production and reduce costs to bring a more-affordable car -- the Model 3 -- to market. When an analyst asked Musk about the enormous costs of the automotive industry, Musk said that Tesla is becoming more capital-efficient.
"We believe that companies add value by doing hard things," said Musk. "Not outsourcing those hard things to other people, because then they deserve the value."
Tesla still has a relationship with closely held Futuris Group of Cos., and the Australian seat supplier has set up shop in Newark, near Tesla's factory in Fremont, California. A Futuris spokesman couldn't be reached for comment Tuesday.
New Executives
Musk also announced two big hires: Jason Wheeler, who was vice president of finance at Google Inc., will be Tesla's next chief financial officer. Jon McNeill, the former CEO of Enservio Inc., has joined as president of global sales and service.
"I'm pretty excited about those two people joining the team and we expect to have some additional announcements in the months to come as we add to the Tesla management team," Musk said on the call.
The battery facility, which Musk calls a Gigafactory, has already begun production for the Tesla Energy line of stationary energy-storage devices for homes, businesses and utilities, the company said in a letter to shareholders. States such as California see energy storage as a critical tool to better manage the electrical grid, integrate a growing amount of solar and wind power and reduce greenhouse-gas emissions. Tesla said it is seeing particularly strong demand in Australia, Germany and South Africa.
Tesla reiterated that it expects to deliver at least 50,000 vehicles in 2015 and remains on track to reveal the Model 3 in late March, sending the stock up in after-hours trading, despite a bigger loss than analysts had estimated.
Stock Rise
The Palo Alto, California-based company reported a loss, excluding some items, of 58 cents a share, wider than the 56-cent average of 16 estimates compiled by Bloomberg. The shares jumped 9.6 percent to $228.24 at 9:44 a.m. New York time.
Since Tesla delivered the first six Model X SUVs on Sept. 29, it has been quiet about further progress. The stock hasn't been as muted, slumping about 15 percent and three analysts downgrading the stock. The Model S also lost its recommended status from Consumer Reports after owners complained about a range of quality issues.
Several analysts and investors anticipated that Musk would need to lower Tesla's full-year deliveries forecast again, so reiterating the minimum of 50,000 was a surprise to some, especially those who shorted the stock, said Ben Kallo, an analyst with Robert W. Baird & Co.
"A lot of shorts are covering," Kallo said Tuesday. "It wasn't as negative as people thought. Model S demand is better than people thought."
Before it's here, it's on the Bloomberg Terminal.
LEARN MORE