Five Things Everyone Will Be Talking About Today
There is a lot going on, time to get caught up
by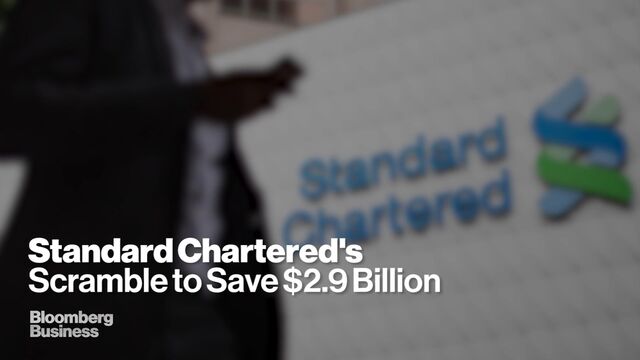 Standard Chartered posts a surprise loss, UBS profit beats, and Xi says 6.5 percent growth is enough for China. Here are some of the things people in markets are talking about this morning.
Standard Chartered, UBS
Standard Chartered Plc reported a surprise third-quarter loss of $139 million and announced that the bank will cut 15,000 jobs as part of a cost-saving plan. StanChart shares plunged 8.7 percent by 10:20 a.m. in London. Meanwhile, net income at UBS Group AG came in at 2.07 billion Swiss francs ($2.1 billion) in the three months through September. The number was helped by a 1.3 billion franc tax credit against earlier losses. The bank said that it is reorganizing management and pushed back its profitability target citing stricter Swiss capital rules and changing economic conditions. Shares in UBS were down 5.1 percent at 10:20 a.m. London time. 
China
President Xi Jinping signaled that China's policy makers will accept slightly slower growth as details of the 13th five-year plan were released. Annual growth of no less than 6.5 percent over the next five years will be needed to realize the goal of doubling 2010 GDP by 2020. China will also seek to increase the yuan's convertibility in an orderly manner by 2020, even as the current currency controls are proving to be quite leaky. 
RBA, BOE and Bank of Zambia
The Reserve Bank of Australia held rates unchanged, as expected by a majority of economists surveyed by Bloomberg. The bank maintained its easing bias saying "the outlook for inflation may afford scope for further easing of policy" in the statement released. Looking ahead to Thursday's Bank of England decision, analysts will be watching for hints as to a change in the timing of a U.K. interest rate rise, with some expected additional dissenters at the MPC. One central bank is not hanging around, as the Bank of Zambia raised its benchmark lending rate by a record 3 percentage points to 15.5 percent this morning to combat inflation that has soared to 14.3 percent. 
Activision to buy King Digital
Activision Blizzard Inc. agreed to buy King Digital Entertainment Plc, the maker of the horribly addictive Candy Crush, for $5.9 billion. The agreement adds a top mobile publisher to Activision's arsenal, allowing it to capitalize on smartphone-based play, a market sector that is forecast to reach $36 billion in revenues in 2015.
Coming up...
Tesla Motors Inc. is due to release third-quarter earnings after the close today, with analysts and investors focussing on the manufacturer's production numbers to see how close it will get to its ambitious target of delivering at least 50,000 autos this year. Last week the company announced strong China sales in the three months ending September. October U.S. auto-sales for the automakers are all due to be reported later this morning.
What we've been reading
This is what's caught our eye over the last 24 hours.
 Want to receive this post, and more, into your inbox every morning? Sign up here
Before it's here, it's on the Bloomberg Terminal.
LEARN MORE