Seattle Bookworms Swarm Amazon's New Brick-and-Mortar Store
by
Location gives shoppers a place to try gadgets before they buy

Devices such as tablets and Kindles featured with books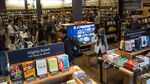 Judy Beck shops a lot online and is a frequent customer of Amazon.com Inc. But she still enjoys wandering through a bookstore to see what catches her eye.
"It's easier for me to browse visually," the Seattle resident said. "I like to be pulled in by something I wasn't expecting."
Beck was among the first customers Tuesday to visit Amazon's new brick-and-mortar bookstore in Seattle's University Village outdoor mall. The store lets shoppers pick up books and try the online retailer's gadgets, including the Fire TV streaming device, Fire tablet and Kindle electronic reader.
The opening became a curiosity because Amazon got its start by giving book shoppers an alternative to brick-and-mortar stores, offering far more inventory online than any single store could carry. It has replicated that business model to most other consumer products without building retail locations. E-commerce spending of $349.1 billion this year will represent 7.2 percent of all U.S. retail sales, according to estimates by EMarketer.
Gadget Showplace
While Amazon's online store enables the company to compete on price and convenience, shoppers miss the sense of discovery inside a brick-and-mortar location and the ability, for example, to try a new electronic device before buying it. The lack of physical locations has put the Seattle-based company at a disadvantage to hardware rival Apple Inc., which has a network of retail stores where shoppers can try products and ask questions. It also may have contributed to Amazon's flop in the smartphone market, where it took a $170 million inventory charge and said in September it would sell out of Fire phones and not replenish them.
The new bookstore commits considerable floor space to showcasing various gadgets, including Amazon's top-selling media-streaming device Fire TV and its latest line of Fire tablets. Shoppers can peruse a paperback, skim the same title on a Kindle e-reader and even ask an Amazon Echo, a voice-activated speaker, to read the audio version of the book to them.
"This is about giving our customers a choice and helping them understand what their choices are," Jennifer Cast, vice president of Amazon Books, said in an interview.
Potential Expansion
Amazon probably will build additional bookstores in other cities to showcase its gadgets, said Michael Pachter, an analyst at Wedbush Securities in Los Angeles.
"It's likely they'll do this in major population centers, just like the NBA has done with a handful of stores to showcase their product, but it's unlikely to become a national chain," he said.
Amazon said more bookstores could be on the way, depending on customer response.
"We're hopeful," Cast said. "Early indications are that customers are enjoying it."
On Tuesday, shoppers filled the Seattle store while a line formed outside with customers waiting to get in. They navigated through titles such as "Becoming Beyonce," "Garfield Cleans His Plate" and a section dubbed "Meet the Candidates" with hardcover books about the current presidential hopefuls.
Reader Ratings
Beneath most books was a black placard that gave a customer rating of as many as five stars and, with some books, text from an online customer review. The thousands of books stocking the shelves were selected based on the company's online book sales and reviews. Customers toting smartphones can scan the placard using their Amazon app to learn more about each title, including seeing more customer reviews.
Seattle resident Toby Rogers held a paperback in one hand while reading an electronic version of a book on an Amazon e-reader.
"I need a lot of explanation with electronics," he said. "It's nice to be able to try something, especially when buying it is a $226 investment."
Beck left the store with a bag of magazines, including one about sailing, which she uses for holiday gifts. Amazon sells magazine subscriptions on its website, but not single-issue copies which are now available in the bookstore. A nearby resident, she expects to visit regularly.
"I thought it was great," she said. "It's nicely laid out."
Before it's here, it's on the Bloomberg Terminal.
LEARN MORE