Norwegian Has Big Revenue Dreams. But First, Is That Ship a Little Ugly?
The mass-market cruise line's bid to charge higher prices means Norwegian has to raise its standards. "The consumer is not stupid."
by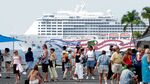 Ew.
Frank Del Rio has never used the word in public to describe the condition of Norwegian Cruise Lines' fleet. But the aggressive schedule of dry-dock upgrades planned for the ships suggests it can't have been far from the chief executive officer's thoughts.
The line, which merged last year with the upscale brands Regent Seven Seas and Oceania, plans to put eight Norwegian ships into dry dock next year and a half dozen more in 2017. The spending is meant to elevate the fleet to tiptop condition, with items such as new carpets, better linens, cutlery, plates, and "a lot of soap and water," said Wendy Beck, chief financial officer. That schedule will entail an upgrade to most of the fleet, excluding Regent and Oceania ships.
"At the end of the day, the consumer is not stupid," Del Rio said on Tuesday during a quarterly call with analysts. "The consumer has choices. And we think the [return] on these kinds of investments outpaces the [return] and the payback of new vessels."
It's part of Norwegian's goal of charging higher fares for its cruises, boosting cruisers' onboard spending, and driving revenue to $5 billion annually and earnings to $5 per share in 2017. Norwegian expects to earn at least $2.85 per share in 2015, on revenue of around $3 billion.
Del Rio has spent the 11 months since he became CEO integrating the two high-end brands he helped to create with Norwegian, a mass-market cruise line long known for affordability. In a review, the new management team found some areas of Norwegian's operation that were not up to the standard they wanted to promote. 
"I will tell you there was underspending in prior years," Del Rio said on the call, with the company "playing a little catch-up." 
Kevin Sheehan, who left the company as CEO in January, declined to comment on Tuesday regarding Norwegian's fleet plans.
A cruise ship that isn't in tiptop shape will have trouble commanding prices similar to those that are, especially among cruisers who know the difference. "We have the youngest fleet in the industry, but some of these vessels are a little more seasoned than others," Del Rio said.
Among the first ships scheduled for an overhaul, in early 2016, will be the top financial performer in Norwegian's fleet: Pride of America, which sails the Hawaiian islands year-round. It will go to San Francisco via a a round-trip journey of 10 days for two weeks in dry dock. 
What might be welcome news to a cruiser can be frustrating to a cruise industry analyst. Dry dock costs Norwegian an average of $7 million to $8 million a ship, CFO Beck said. That amount could be higher, depending on how much work a particular ship needs.
So Norwegian is using the familiar, if not risk-free, strategy of spending money to make money to reach ambitious financial goals. "We've got billions of dollars invested in these ships," Del Rio said. "You have to maintain them at the highest standards if you expect to achieve these higher yields." 
Norwegian shares dipped nearly 6 percent in morning trading before recovering somewhat, due to a fourth-quarter outlook that was softer than analysts had expected. The shares have gained 31 percent this year as the line has seen higher pricing and stronger bookings.
Before it's here, it's on the Bloomberg Terminal.
LEARN MORE