Mylan to Propose Governance Changes If Perrigo Acquired
By and
Drugmaker to ask shareholders to vote on Dutch structure

Mylan agrees to sell assets for seven generic drugs, FTC says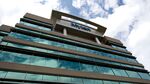 Mylan NV will ask shareholders to vote on changes to its corporate governance, including the nomination and election of directors, if the drugmaker completes its hostile takeover bid for Perrigo Co.
The company, based in the Netherlands and run from Canonsburg, Pennsylvania, also will propose a vote on whether to retain a Dutch structure known as a stichting, an independent foundation that can help block takeover attempts, according to a statement Tuesday. It didn't specify what changes it would make on board elections.
Perrigo has criticized Mylan's corporate governance as part of its defense against the generic drug maker's $27 billion takeover effort. Perrigo, which makes prescription and over-the-counter drugs, has called the proposal inadequate. Its investors have until Nov. 13 to accept Mylan's tender offer for their shares.
Perrigo, based in Dublin, called Mylan's statement on governance "vague" and an "attempt to deceive shareholders."
"Mylan merely catalogues areas where serious reform is needed, and offers highly contingent and illusory promises without any assurance that any change will ever be made," Perrigo said in the e-mailed statement. It urged its shareholders to reject Mylan's offer.
Regulatory Approval
Separately, Mylan won U.S. antitrust approval for the takeover bid after agreeing to sell rights to seven generic drugs to resolve claims the purchase would harm competition.
Mylan agreed to divest assets related to the drugs to Alvogen Group Inc. to win clearance from the Federal Trade Commission, the agency said Tuesday in a statement.
The FTC required divestitures in markets for generics that treat diabetes, Parkinson's disease and acne among other conditions, according to the statement.