technology
Metrojet Plunged at 300 Miles Per Hour, Latest Data Shows
By
Tracker FlightRadar24 releases revised data from doomed plane

New readings are more consistent with a sudden breakup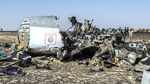 The Russian plane that crashed Saturday in Egypt slowed suddenly and then plunged to the Earth at 300 miles (483 kilometers) per hour, according to revised data of its final moments captured by flight-tracking website FlightRadar24.
The Metrojet Airbus Group SE A321 carrying 224 people fell from 31,000 feet to 26,000 feet in the final 26 seconds, according to the final transmissions from its radio transponder reporting information to the ground.
 
The new data is consistent with reports from Egyptian and Russian officials, who said that the plane came apart as it was flying at cruising altitude from Sharm el-Sheikh to St. Petersburg. It also indicates that the plane's direction of travel was wobbling from side to side, which would occur if it was coming apart.  

"The FightRadar24 information is better, but it is not yet anything that we can draw any conclusions from," said John Cox, chief executive officer of Washington-based Safety Operating Systems, an aviation consultant.
Several possible scenarios for the plane's breakup remain, including a bomb or a structural failure, Cox said. At least partial answers should come soon, as officials in Egypt review the plane's two crash-proof recording devices and teams have a chance to inspect the wreckage, he said.
Slowed Flight
The plane dropped gradually at first and then more rapidly as its forward speed slowed, according to the new data. By the last transmission, it was moving forward at only 54 miles (87 kilometers) an hour, far below a normal flying speed.
Raw data from the plane reported initially by FlightRadar24 suggested the aircraft was bucking up and down in its final seconds. The flight tracking firm says that altitude information appears to be unreliable.
The newer information released Tuesday is based on global-positioning satellite data that the plane also transmitted, which the firm believes is more accurate, according to a posting on its website.
Whatever happened aboard the Russian aircraft appeared to begin at 6:13 a.m. local time when what had been a steady climb switched suddenly to a descent, according to the data.
Data Change
"We see a change in the data" at that moment, Ian Petchenik, a spokesman for FlightRadar24, said in an interview. "But we have no information about the cause of that change."
In the seconds after that, readings from the plane generated by air pressure begin to become suspicious, according to the company. The plane appears to also change its heading, turning more than 20 degrees to the right, and then back onto its original northwesterly heading, if the data can be believed.
Senator Dianne Feinstein, the vice chairwoman of the Senate Select Committee on Intelligence, said it's possible that terrorism was involved in the crash.
"I'm one who believes you cannot rule it out," Feinstein, a California Democrat, said in an interview in the U.S. Capitol. "We know we have a bomb that goes through magnetometers and can explode an airplane. So its a possibility."
"Until you do the scientific testing on the skin of the plane and the interior plane, I think you don't really know," Feinstein said. "You can't rule it out."
Spy Chief
On Monday, Director of National Intelligence James Clapper said there's no immediate indication that the crash was the result of terrorism.
John Goglia, a former airline mechanic who served on the U.S. National Transportation Safety Board, said investigators may be taking a look at a 2001 repair to the Russian jet prompted by an accidental scraping of its tail during landing.
Failures of those repairs are one of the few things known to cause the type of sudden midair breakup that occurred Saturday, he said.
— With assistance by Kathleen Miller
(Updates with consultant's comments starting in fourth paragraph.)
Before it's here, it's on the Bloomberg Terminal.
LEARN MORE