Merkel Edges Closer to Refugees Deal After Winning Industry Nod
By , , and
BDI lobby president Grillo says globalization works both ways

Merkel addressed parliamentary caucus in Berlin on Tuesday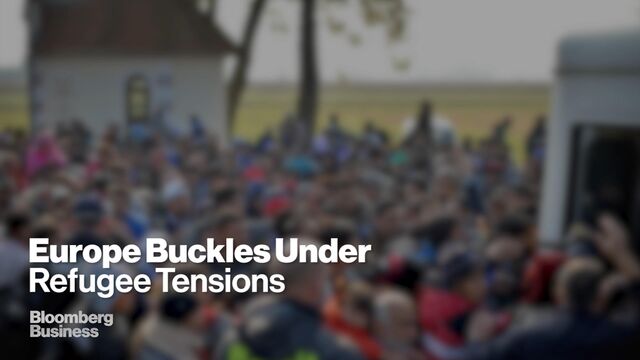 German Chancellor Angela Merkel began to defuse the immediate political crisis over her refugee policy as she edged closer to a deal with bickering coalition partners over the biggest influx of migrants since World War II and won the backing of a key industry group.
Merkel faced little resistance in a crucial meeting Tuesday with her Christian Democratic parliamentary caucus, a party official close to the talks said, as her Social Democratic coalition partner signaled readiness to strike a deal. BDI President Ulrich Grillo said earlier that Europe's biggest economy can surmount the challenge if sacrifices are made and called on the government to do more to assuage public concern over the arrival of as many as 10,000 people per day. 

"We want to make the influx orderly and controlled as well as tackle the root causes for those fleeing in order to reduce the number of refugees," Merkel told reporters in Berlin alongside her chief internal critic, Bavarian Premier Horst Seehofer. The two briefed lawmakers together after reaching a pact to manage the crisis.
Merkel refused to bow to demands to close the border or place caps on the number of asylum seekers, among prospects raised by Seehofer and members of his Bavarian Christian Social Union. As nearly a million refugees make their way to Germany this year, the Social Democrats opposed a CSU-led initiative -- backed by Merkel as part of her deal with Seehofer -- to set up so-called transit zones to weed out migrants who don't qualify for asylum protection.
SPD parliamentary caucus leader Thomas Oppermann said his party could agree to refugee facilities, if they don't have a punitive character, when the party leaders reconvene on Thursday. Merkel's chief of staff, Peter Altmaier, told Deutschlandfunk radio that that was doable.
"I am sure that we will find a solution on Thursday," Oppermann said. "We have a particular problem with the notion that refugees should be given a welcome by being taken into custody."
The beleaguered chancellor's hand was strengthened with the support of the BDI, an umbrella organization for companies that are among Europe's biggest exporters. 
Government Responsibility
"The government is called upon to tell the people of Germany very clearly that we can indeed cope," Grillo told an audience in Berlin that included Merkel and U.K. Chancellor of the Exchequer George Osborne. "But it will be difficult and it will demand sacrifices from our society."
With public concern mounting and party support on the slide, Merkel is navigating a stormy week as lawmakers return to Berlin for a parliamentary session again dominated by the crisis. In a meeting with lawmakers that provided a barometer of sentiment regarding Merkel, Seehofer lauded the chancellor for seeking common ground, according to the official, who asked not to be identified discussing private talks.

With Bavaria the gateway to Germany for those pouring over the border from Austria, Seehofer had threatened action should Merkel not meet his demands. The Bavarian leader was assuaged over the weekend by a commitment to reduce the number of those coming in, even if Merkel didn't budge on caps.
"No country in the world can accommodate a limitless flow of refugees," Seehofer told reporters earlier. "The general public expects us to reach an agreement on Thursday."
BDI support for Merkel's stance against Russia last year after it seized Crimea proved decisive in swinging Germany and ultimately Europe behind sanctions, even at the cost to German exports.
The government must say how precisely it wants to manage the arrival of so many people and Germans must be given the chance to discuss to what extent Germany is to become a country of immigration, Grillo said. At the same time, more must be done to speed the integration of refugees into the workforce, he said, citing 600,000 or more vacant posts.
"Those who use and promote the benefits of globalization can't refuse when it reaches one's own national borders," Grillo said.
Merkel's open-door refugee policy comes at a price. Backing for her CDU-led bloc slipped two percentage points to 36 percent last week, down from an August peak of 43 percent, according to a weekly poll carried out by Forsa.
The chancellor late Monday faced down CDU rank-and-file at a party event in the western city of Darmstadt. While several voiced their support for her open-door policy, many criticized her for not stemming the flow and not taking their skepticism into account.
"I'm working, just as you expect, to ensure that the number of refugees goes down," Merkel told the meeting. "But to all those who say we should shut the German border to Austria, I don't think that will solve the problem."