Merkel Ally Says Government Will Survive Refugee Turmoil
By , , and
Chancellor `under pressure, but plays very constructive role'

Latest Forsa poll shows Merkel's bloc holding at 36%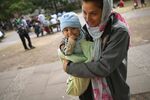 German Chancellor Angela Merkel's government will survive the country's refugee crisis as she moves to defuse turmoil within her administration over the response to the influx of migrants, according to a senior coalition official.
Following one of the biggest coalition bust-ups since Merkel's third administration took office two years ago, Deputy Foreign Minister Michael Roth said that party leaders will push aside their differences as they prepare for a crunch meeting Thursday on refugees policy. German voters want the coalition to get to grips with the crisis and have no interest in a government collapse, he said.
"People don't want to waste their time with party conflicts," Roth, a member of the Social Democrats, the junior partner in Merkel's Christian Democrat-led coalition,told Bloomberg Television in an interview Tuesday. "We have to work very hard, very intensively on sustainable solutions, and that's one of my major targets."
Asked whether Merkel's government could collapse, Roth said: "No, not at all."
The positive tone from a rival party member, together with a public show of support from business leaders, suggests Merkel may be regaining control over the domestic political drift in Germany after weeks of sniping that put her chancellorship in question. While she has said that many external factors will determine whether the flow of refugees can be stemmed, from government action in Turkey to a diplomatic solution to end the war in Syria, Merkel can take heart from latest polling that shows her party's sliding support has halted.
After weeks of increasingly acrimonious exchanges over refugee policy that culminated in last weekend's emergency meetings with fellow coalition party leaders, Merkel edged toward an accord with her chief internal critic, Bavarian Premier Horst Seehofer, even as she stood her ground against demands to place caps on the numbers entering Germany. The chancellor faced little resistance and even gained some applause in a meeting Tuesday with lawmakers from her Christian Democratic bloc and won signals from the Social Democrats that they're ready to strike a deal.
'Orderly' Influx
With as many as 1 million asylum seekers forecast to enter Germany this year, the coalition spat hinged on ever-increasing demands to halt the flow of refugees and tighten border controls. Merkel has pledged to expedite the return home of economic migrants whose claim to asylum is rejected and to stem the overall number of arrivals, but has ruled out closing borders or placing upper limits on the numbers who qualify for asylum.
"We want to make the influx orderly and controlled as well as tackle the root causes for those fleeing in order to reduce the number of refugees," Merkel told reporters in Berlin Tuesday.
Merkel, Seehofer and Sigmar Gabriel, the vice chancellor and SPD chairman, will meet Thursday to forge a common stance on tackling the crisis before a gathering of the leaders of Germany's 16 states.
A further demand from within Merkel's faction to set up so-called transit zones, areas on the border where new arrivals would be held and economic migrants sifted out, was rejected by the Social Democrats, who branded them "internment camps." The SPD would, however, agree to refugee centers that didn't entail punitive custody measures.
Roth said focusing on migrants originating from nations deemed safe by the EU is useless. Only 3 percent of such newcomers come from the western Balkan region, he said.
"That's not the problem any longer," Roth said. The vast majority of refugees came from Syria, Afghanistan and Iraq, whose citizens could qualify for safe shelter in Germany, he said.

With Bavaria the gateway to Germany for those pouring over the border from Austria, Seehofer had threatened action should the chancellor fail to meet his demands. The Bavarian leader was assuaged over the weekend by a commitment to reduce the number of those coming in, even if Merkel didn't budge on caps.
"No country in the world can accommodate a limitless flow of refugees," Seehofer, the chairman of the Christian Social Union, the CDU's Bavarian sister party, told reporters. "The general public expects us to reach an agreement on Thursday."
Merkel's open-door refugee policy has come at a price, with voter backing for her CDU-led bloc sliding to 36 percent from an August peak of 43 percent in a weekly Forsa poll for Stern magazine and RTL television. Support held at 36 percent in the latest poll released Wednesday.
Roth lauded the chancellor for standing up to Seehofer's demands.
"The chancellor is under pressure, but she plays a very constructive role," Roth said in English. "She knows quite well that a short-term solution doesn't exist."