Jon Stewart Moves to HBO With Four-Year Production Deal
by and
First projects will be short-form videos for online platforms

Stewart back to work three months after last `Daily Show'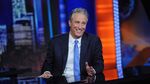 Jon Stewart, who left "The Daily Show" earlier this year, will move to HBO for his next act.
The comedy host reached a four-year production deal with Time Warner Inc.'s premium cable channel, according to a statement Tuesday. Stewart's first project will be making short-form videos based on current events for HBO's digital services HBO Go and HBO Now. Additional projects will be announced as they are confirmed, HBO said. The deal also includes a first-look option for other film and TV ventures.
"Appearing on television 22 minutes a night clearly broke me," Stewart said in the statement. "I'm pretty sure I can produce a few minutes of content every now and again."
The move underscores the growing importance of new online platforms for traditional cable channels like HBO. Stewart's projects will be accessible to viewers who don't pay for cable, through the online-only HBO Now subscription product. Stewart also follows his former "Daily Show" colleague John Oliver to the network. Oliver hosts HBO's weekly news satire "Last Week Tonight."
Stewart made his final "Daily Show" appearance in August, capping a 17-year run in which he became a go-to source for younger viewers for his sharp and humorous take on current events. By adding Stewart, HBO will be courting that same young demographic.
The premium channel has been making a series of deals to attract new talent and programming that reaches a broader audience.
In August, HBO announced a five-year deal with the nonprofit educational group behind "Sesame Street" to carry new seasons of the popular children's show. It also recently made a major content agreement with Vice Media, which is popular with younger audiences, and hired former ESPN commentator Bill Simmons to host a weekly program and produce short-form videos for its streaming services.
Before it's here, it's on the Bloomberg Terminal.
LEARN MORE