Jaitley Happy With India Interest Rates, Noncommittal on Rajan
by and
Watching to see how inflation figures move in next few months

Dismisses tolerance debate as a `manufactured rebellion'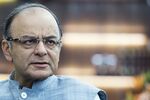 Finance Minister Arun Jaitley praised the Reserve Bank of India for slashing the benchmark interest rate, while being non-committal on whether Governor Raghuram Rajan would get an extension when his term expires next year.
"The RBI has the onerous responsibility of managing it -- the interest rates -- along with inflation, keeping growth targets in mind," Jaitley said in an interview on Monday night at his New Delhi office. "And I would say I am quite happy with the way things have moved in the last one year. Therefore, we have to see how inflation figures move over the next few months."
Asked if that meant Rajan, 52, would be given an extension beyond the end of his term in September 2016, Jaitley said: "Why do you ask questions which I am not competent to answer?" Rajan's immediate predecessor was given a two-year extension, while some other governors have served longer than five years.
Rajan has lowered the repurchase rate by 1.25 percentage points this year, including a greater-than-expected cut at the last meeting, in September. The former International Monetary Fund chief economist, put at the RBI's helm by the previous government, has also captured attention by stepping outside the realm of monetary policy during his tenure. A Saturday speech about the importance of tolerance in multi-ethnic, multi-religion India sparked a political fight ahead of a key state election.
Tolerance Debate
The opposition Congress party, which put Rajan at the RBI, plans to hold a march in Delhi on Tuesday to build momentum after the governor called for tolerance and public debate. The speech, which didn't reference any specific incidents, came at a time when Prime Minister Narendra Modi's government is facing criticism for failing to quickly condemn the murder of a man over rumors that he killed a cow, an animal sacred in Hinduism.
Jaitley said the government's opponents were seizing on a few isolated incidents to thwart Modi's economic agenda. While he declined to specifically address Rajan's speech, he called the outcry among critics a "manufactured rebellion."
'Excessive Propaganda'
"If you have excessive propaganda to this effect, somebody is going to be misled by it," Jaitley said. "The idea of this campaign is both to hurt this country and hurt its investment environment."
He also defended Modi for the timing of his response. Modi condemned the incident more than a week after it occurred, triggering criticism from his opponents.
"How can somebody argue that the timing and format of the prime minister's statement must be decided by somebody else, particularly the critics," Jaitley said. "The prime minister sets his own agenda."
Jaitley expressed confidence that Modi's ruling Bharatiya Janata Party would win a state election in Bihar, which would strengthen its ability to push through legislation in the opposition-controlled upper house. The results are due on Nov. 8.
He also said investors wouldn't be deterred by the debate over freedom of speech in India.
"Investors know the truth," Jaitley said. "They are cleverer than you and me."
Before it's here, it's on the Bloomberg Terminal.
LEARN MORE