Gross's Bid at Redemption Set Back as Soros Pulls $490 Million
by
Soros invested with Gross after his departure from Pimco

Gross's new fund trails 63 percent of peers since he started
Janus Capital Group Inc. took out an advertisement a year ago to trumpet a $500 million investment by George Soros in a fund managed by Bill Gross, weeks after the bond guru was ousted by Pacific Investment Management Co and joined the Denver-based firm.
"An honor to be chosen & an honor to be earned as well," Gross said at the time on a tweet he posted on Janus's corporate feed.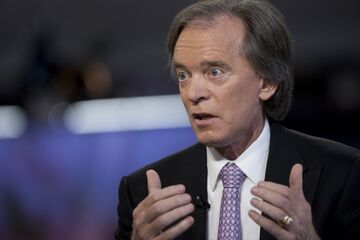 Now, the Soros money is gone, pulled as the Janus Global Unconstrained Bond Fund lost 2 percent since Gross started running it, worse than 63 percent of similar funds. For Gross, who has given himself just a few years to prove he can still beat his peers and burnish his reputation as one of the greatest bond managers in history, it's arguably the hardest blow since his departure from Pimco.
Billed as Janus's Peyton Manning ("that game-changing level of talent") by Janus Chief Executive Officer Dick Weil, Gross failed to attract large amounts of outside money to his new fund and this year started to see redemptions. Performance has trailed peers as the 71-year-old struggled to profit from prescient market calls. Last month, Gross filed a lawsuit against Pimco, claiming he was pushed out by executives seeking a bigger share of his bonus pool -- a public dispute that could drag on for some time.
"It has been a rough 2015 for Janus Unconstrained," Todd Rosenbluth, director of ETF and mutual-fund research at S&P Capital IQ, said in an e-mail. "Investors typically have a longer time horizon than a year but the struggles plus the pending lawsuit with Pimco can be concerning for investors. There are better bond fund alternatives."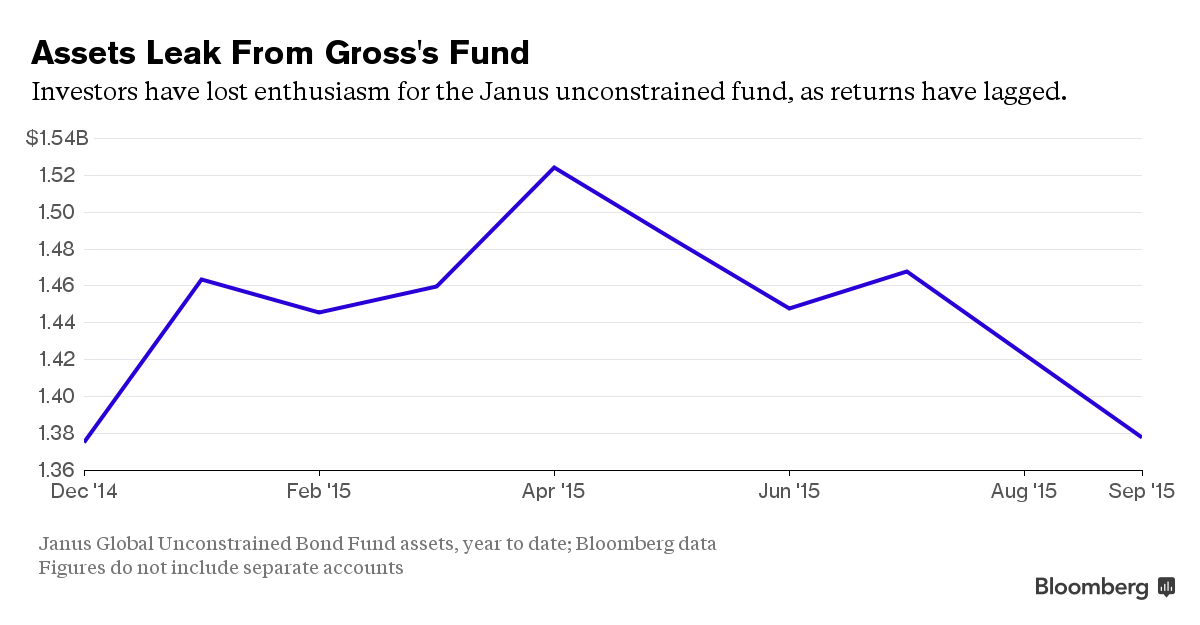 Gross built one of the industry's best long-term records while running the Pimco Total Return Fund, which under his watch grew to be the world's largest mutual fund. The fund had $293 billion under management at its peak in 2013. It has shrunk to $95.5 billion since then as clients pulled record amounts following Gross's departure.
A week after Gross was ousted from Pimco, Scott Bessent, Soros's chief investment officer, visited the money manager in Newport Beach, California, a person familiar with the matter said at the time. Soros's firm committed $500 million to a separate account overseen by Gross. The firm saw an opportunity to invest with a talented manager while he was still running a small amount of money, the person said.
The backing from Soros was important because many investors, who were pulling their money from the Pimco Total Return Fund that Gross had run until then, were reluctant to follow him to his new fund at Janus. Institutional investors typically require that a fund have a three-year track record before they invest in it.
Personal Investment
Even with the stamp of approval by Soros, one of the most successful hedge fund managers in the world, Gross struggled to attract money to his new fund. The $1.38 billion Janus Global Unconstrained Bond Fund includes about $700 million that Gross personally invested, according to a January filing.
Soros's redemption from Gross came to light after data compiled by eVestment LLC, reported earlier by Pensions & Investments, showed a $490 million withdrawal in the third quarter from an institutional investor. The money was pulled by Soros Fund Management, said a person with knowledge of the firm who asked not to be identified.
Officials for Soros, Janus and eVestment declined to comment, as did Gross.
Bessent, who's been overseeing Soros's fortune for the last four years, will leave at the end of 2015 to start his own hedge-fund firm, Key Square Group.
'Hot Money'
A lot of the investment Gross attracted when he started last year was "hot money," banking on the reputation he developed over decades, according to David Merkel, an investment blogger and principal at Aleph Investments, which oversees $10 million. Now, even with a short track record after Pimco, it will be harder for Gross to attract that kind of money, said Merkel, who didn't place money with Gross at Janus or Pimco.
"Soros was one of the people who took a chance," Merkel said in a telephone interview from Ellicott City, Maryland. "Soros has many other places he can go."
Gross's unconstrained fund has lost 1.2 percent this year, worse than 71 percent of similar funds, according to data compiled by Bloomberg. The fund was hurt earlier this year as Gross was surprised by the speed and extent of a selloff in German government debt, even though he predicted it. He also correctly forecast a slump in Chinese stocks.
Janus's Shares
Even with those stumbles, the move so far has paid off for Janus when measured by the share price. The stock has gained 43 percent since Gross joined on Sept. 26 last year, compared with a 0.5 percent decline in the 19-member Standard & Poor's index of asset managers and custody banks.
Janus shares rose 2.5 percent on Monday in New York.
The firm in July said Kumar Palghat, who worked with Gross at Pimco for 10 years, will help run the fund, with Gross staying on as lead manager. In a March interview with Bloomberg Television, Gross said he'll keep trading for the next two to four years -- not to make money for himself, but to prove he can still beat the market.
"I wanted to show clients and the world, to the extent that they're interested, that I can continue to produce a track record like I did at Pimco," Gross said in the interview. "I won't have as much time, I won't have five to 10 to 15 years leeway like I had at Pimco to do that, but certainly for the next two, three, four years. I'm a very competitive person and I like to post numbers that are better than the market and better than the competition."
He's also trying to set the record straight, in his point of view, about his ouster by Pimco. He said in his lawsuit that he wants to expose "improper, dishonest, and unethical behavior" by the executives who ousted him, and he's vowed to give all proceeds to charity.
Pimco has said the lawsuit is without merit. Last week, Pimco hired attorney David Boies, chairman of Boies Schiller & Flexner LLP who represented U.S. Vice President Al Gore in litigation over the 2000 presidential election, to defend the firm.
Before it's here, it's on the Bloomberg Terminal.
LEARN MORE