Confusion Over Sinai Crash as Black-Boxes Yet to Reveal Secrets
by , , and
Egyptian president says terror claims no more than propoganda

Russian airline Metrojet points to external event as cause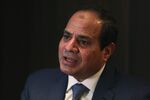 Egypt's government said Tuesday that terrorists based on its soil couldn't have downed the Russian jet that broke up over the Sinai desert killing 224 passengers and crew -- a day after the plane's operator Metrojet pointed to an external attack as a likely cause of the tragedy.
President Abdel-Fattah El-Sisi's attempts to shift the narrative away from a possible Islamic State outrage come amid concerns that Saturday's crash could lead to a collapse in tourist travel to Egypt, while Metrojet has sought to quell suggestions that a shoddy maintenance regime may have been to blame.
The claims and counterclaims come as holdups in examining the Airbus Group SE A321's so-called black boxes create a vacuum for speculation about a crash involving a modern jetliner apparently torn apart in midair. Egypt's Civil Aviation Ministry said in a statement that information from the voice and data recorders won't be analyzed until Wednesday.
"The situation in Sinai, especially in this limited area, is under our full control," El-Sisi said in a BBC interview posted on the network's website, adding that "propaganda" linking the crash to Islamic State threatens to "damage the stability and security of Egypt."
International Team
Metrojet said at a briefing on Monday that a systems failure or fault on the part of the airline or its crew could be ruled out as a factor and that a "mechanical impact" seemed "the only reasonable explanation" for the crash. Alexander Smirnov, director-general at its owner Kogalymavia, stopped short of suggesting that the aircraft was destroyed in a missile or bomb attack.
Formal analysis of the Airbus's flight recorders, which were recovered soon after the crash, allowing partial voice transcripts to be compiled as early as yesterday, is awaiting the gathering of an extended team of international air-safety experts drawn from at least five nations. Authorities in Cairo said the search of the crash site itself would be concluded on Tuesday.
While Egypt will lead the probe, it will be assisted by officials from France, where Airbus is based, Germany, where the A321 was built, Ireland, where its leasing-company owner is located, and Russia. U.S. investigators could also become involved because the plane's engines were made by Pratt & Whitney.
Islamic State's Sinai affiliate, which Egyptian forces have been battling for more than a year, said hours after the crash that it had brought down the aircraft, without

Russia has consistently said that it's too early to determine the cause of the crash, while suggesting that Islamic State's claims lack credibility.
Only the most sophisticated ground-based missiles can reach the altitude of 31,000 feet from which the plane is understood to have plummeted, though U.S. Director of National Intelligence James Clapper said Monday he couldn't be certain that Islamic State lacks the ability to shoot down airliners.
A U.S. infrared satellite detected a heat flash over the peninsula at the same time the aircraft went down, NBC News has reported, adding that the absence of an apparent trail also seems to rule out a missile. A bomb explosion could, though, have produced the flash -- as might an exploding fuel tank or engine.
Russian and Egyptian officials are agreed that the narrow-body jet disintegrated about 23 minutes after takeoff from the Red Sea resort of Sharm El-Sheikh, with debris scattered over an area spanning about 8 kilometers by 4 kilometers (5 miles by 2.5 miles).
Tail Damage
Egypt has issued contradictory reports as to whether the pilots radioed for help. Russian news agency Interfax cited individuals in Cairo claiming knowledge of the black boxes as saying conversations with dispatchers on the ground suggest the flight was proceeding normally four minutes before the crash, followed by "uncharacteristic" sounds before it broke up.
Investigators may also examine whether repairs to the A321's tail in 2001 played a role. Russian agency Tass, citing an unidentified person in Cairo, said foreign objects not belonging to the plane were found at the scene.
Sabotage is another possible explanation. Checks on airport staff in Sharm El-Sheikh will be conducted as part of the investigation, Civil Aviation Ministry spokesman Mohammed Rahma said in an e-mailed response to questions.
Before it's here, it's on the Bloomberg Terminal.
LEARN MORE