Druckenmiller Says He's Short the Euro, Stocks Could Be Next
Katherine Burton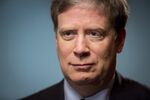 Stan Druckenmiller, who boasts one of the best investor track records over the past three decades, said he's betting against the euro again and could see himself becoming bearish on stocks.
Druckenmiller, who produced average annual returns of 30 percent from 1986 through 2010 at his Duquesne Capital Management, said in April he was bearish on the euro. He covered that position later in the year.
"The nice thing about currency moves, they tend to last two or three years," the investor said Tuesday at the New York Times DealBook Conference in New York. He added that the moves tend to take a "time out" somewhere in the middle.
The longtime hedge fund manager pointed to a divergence in monetary policy between the U.S. and Europe that started in May
2014. He said European Central Bank President Mario Draghi has "pretty much pre-announced step two," signaling either a further cut in the discount rate, more quantitative easing or both, while "heavy breathing" at the Federal Reserve points toward a potential interest rate increase.
The 62-year-old investor was the architect of a $10 billion trade made in 1992 shorting the British pound while he was working for billionaire George Soros. The wager made $1 billion and earned his boss the moniker "The man who broke the Bank of England."
Euro's Decline
The euro fell against the dollar from about $1.21 at the end of 2014 to this year's low of $1.05 in March. It climbed as high as $1.16 in late August and now trades at about $1.10, down almost 13 percent versus the greenback over the past year.
Druckenmiller was less certain about stocks in his conference presentation.
"I could see myself getting bearish, and I can't see myself getting bullish," he said.
Druckenmiller said he's long high-beta, high-growth companies that are investing in their businesses because they will do very well when there's low nominal growth. He's short companies that depend more on cyclical growth.
Before it's here, it's on the Bloomberg Terminal.
LEARN MORE