China's Slowdown Could Be a Plus for U.S. and Europe in the End
Bloomberg News
Lower commodity prices seen as windfall for Western consumers

Biggest risk from China is global financial-market contagion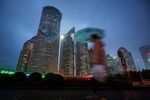 China's slowdown is blamed for causing everything from global market turmoil to falling sales of crocodile-skin handbags. Some even say it could trigger a global recession.
Yet the slowest growth in 25 years in the world's second-biggest economy is proving a boost for consumers and companies in Western Europe and the U.S., according to Neville Hill, co-head of global economics and strategy at Credit Suisse Group AG in London.
Here's why. When China grew at double-digit rates, its voracious demand for materials drove up commodity and energy prices. That hurt the buying power of consumers in Western economies and weighed on corporate sentiment as rising costs hurt profits.
Now, that situation is being reversed. Plunging commodity prices are boosting European and American shoppers and spurring corporate earnings growth.
"It's actually been quite a powerful windfall," Hill said in an interview Tuesday in Shanghai. "There's been a very powerful trade shock in terms of the developed world and against the emerging markets."
Meantime, China's factory-gate deflation and lower export prices are making everything from T-shirts, tools, toys and TVs cheaper, allowing U.S. and European shoppers to spend more at local restaurants and theaters.
'Good Deflation'
"China is exporting deflation, but for the West it's good deflation rather than bad deflation in that the cost of the stuff we buy has gone down, but the price we receive for our labor has gone up," Hill said.
The argument is nuanced. Hill said emerging markets in Asia will continue to suffer from China's weakness and commodity exporters like Brazil and South Africa will hurt.
Another risk is financial-market sentiment. A steeper slowdown in China could cause global jitters and spark a sell-off around the world, Hill said.
But for big Western economies whose share of exports to China is only a small part of their gross domestic product, like the U.S., he sees the negative impact as manageable.
Real Incomes
"China's slowdown has been associated with this drop in commodity prices that has allowed for a much better-balanced pattern of global growth in which demand in the U.S. and Europe has been boosted by the increase in real incomes that we've seen," Hill said.
China's GDP rose 6.9 percent in the three months through September from a year earlier, the slowest quarterly expansion since the first three months of 2009. For the year, growth is on pace to be the weakest since 1990. President Xi Jinping on Tuesday said average annual growth should be no less than 6.5 percent in the next five years, a target described as "quite ambitious" by Larry Hu, head of China economics at Macquarie Securities Ltd. in Hong Kong.
Xi's government is transforming the $10 trillion-plus economy from one driven by debt-fueled investment and exports into a more sustainable one led by consumer spending and services. That shift means there's less demand for commodities.
For Europe and the U.S., a recent improvement in growth "has been thanks to weaker commodity prices," Hill said. "It's the other side of the coin from Brazil."
— With assistance by Enda Curran
Before it's here, it's on the Bloomberg Terminal.
LEARN MORE