Bondholder Exodus Sparked by El Nino as Avocado Grower Plummets
by
Camposol bonds have tumbled 11 percent in the past 3 months

Torrential rain may damage Camposol's farms in northern Peru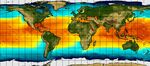 El Nino is prompting bond investors to flee Peru's Camposol SA.
The world's biggest avocado exporter has seen its $125 million of notes due in 2017 tumble 11 percent in the past three months as the higher-than-normal temperatures associated with the weather pattern reduce production. That's compared to a 0.7 percent average return on high-yield emerging-market bonds, according to Bloomberg's index.

Things are likely to get worse for Camposol, which also produces shrimp and asparagus, as the strongest El Nino in almost two decades cuts harvests and threatens to unleash deluges on farmland on Peru's Pacific coast. Concern the fallout may drive up leverage at the Lima-based company led Moody's Investors Service to cut Camposol's rating on Oct. 29 to Caa1, seven steps below investment grade.
"There's no support from anybody in the market for Camposol," Cornel Bruhin, a money manager at MainFirst Schweiz AG, said from Zurich. "No one knows what the impact on the company will be from El Nino."
Camposol Executive Chairman Samuel Dyer Coriat didn't reply to an e-mail seeking comment on El Nino.
On Oct. 29, Camposol said sales plunged 8.1 percent in the first nine months of the year, causing profit to drop 15 percent. 
During an Oct. 29 earnings call with analysts, Dyer Coriat said heavy rains could affect irrigation systems, delay harvests and damage shrimp in the ponds close to the shore. Camposol has allocated about $500,000 to protect farms, he said. El Nino isn't expected to be as intense as it was in 1997, when the sea's temperature was about two degrees higher than it is now, according to Coriat. 
From 1997 to 1998, Peru suffered $3.5 billion in damage, equal to 6.2 percent of its gross domestic product at the time. Floods and landslides destroyed 73,000 hectares of crops, damaged a further 131,000 hectares and washed away homes, roads and bridges.
There's a 55 percent probability the El Nino will be strong to extraordinary in intensity, according to Grinia Avalos, director of meteorology at Peru weather agency Senahmi in Lima. 
Camposol, owned by the Dyer family, said last week it's seeking to reduce its reliance on asparagus and avocado, which account for 40 percent of its output. The 18-year-old company is expanding planting of crops such as blueberries and plans to become the world's biggest grower of the fruit next year.
The Dyer family is no stranger to challenges in Peru. In 1992, Camposol co-founder Samuel Dyer Ampudia was abducted on the orders of then-President Alberto Fujimori, who was later jailed for the crime and other human-rights violations.  
Still, El Nino represents a huge threat to Peru's largest agribusiness company.
Yields on Camposol's 9.875 percent notes have already surged to 25.7 percent as of 1:42 p.m. in New York. And the securities now trade well above the threshold for debt considered distressed, yielding more than 20 percentage points above U.S. Treasuries.
MainFirst Schweiz's Bruhin said Camposol should halt expansion plans and conserve cash until El Nino has passed.
"How can you invest in a situation where you don't know what impact the El Nino will have?" Bruhin said. "I don't really like that."
Before it's here, it's on the Bloomberg Terminal.
LEARN MORE