Barclays: Investors Are Way More Scared of China Than of Janet Yellen
Complacency over a Fed liftoff abounds.
by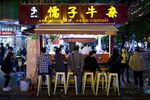 China—not the prospect of the first rate hike from the Federal Reserve in almost a decade—is what keeps investors up at night.
Barclays surveyed 651 of its clients around the world to glean their biggest fears, as well as their thoughts on commodities, yields, currencies, and other questions about the market outlook.
"Only 7 percent sees Fed normalization as the main risk for markets over the next 12 months, compared with 36 percent whose main worry is China," said Guillermo Felices, head of European asset allocation.

The share of investors who judged softness in China and other developing economies to be the biggest risk to markets spiked in the third quarter, the period in which Beijing unexpectedly moved to devalue the yuan.
The elevation in concern over growth in China and the rest of the developing world coincided with a rise in the share of investors who think deflation is a larger risk to the markets than inflation.
China's devaluation sparked similar moves from other nations that had pegged their currencies to the greenback. All else being equal, this process engenders a stronger U.S. dollar and weaker commodity prices, thereby exerting downward pressure on headline inflation rates.
Barclays' survey was conducted from Oct. 22-29. As such, investors' reactions to the Fed's Oct. 28 statement, which resulted in an increase in the implied odds of a December rate hike, may not fully be reflected in its results. 
Nonetheless, roughly 40 percent of those surveyed indicated that they expected the Fed to initiate its tightening phase before the year was out.
A plurality of respondents think liftoff will be a negative for risk assets, though only for a short period.
"Indeed, the risk of Fed policy withdrawal is at a two-year low, suggesting complacency about the threat of higher rates," warned Felices.
Before it's here, it's on the Bloomberg Terminal.
LEARN MORE