business
Bank of Russia Capitulates on Growth After `Careless' Rate Pause
By , , and
Central bank held rates unchanged for second meeting last week

Russia enduring recession while inflation remains elevated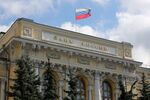 Governor Elvira Nabiullina said monetary stimulus is ill-suited to revive an economy hamstrung by "structural and cyclical factors" as intensifying inflation risks and a bout of currency weakness forced the Russian central bank to extend an interest-rate pause last week.
"The role of structural factors will gradually increase, which is why the possibility of using monetary policy to stimulate economic growth is limited," Nabiullina told lawmakers in Moscow on Tuesday. Inflation is a "major social problem, not just an economic one. Its solution will largely determine people's trust in economic policy as a whole. That's why the central bank is so focused on the problem of inflation and inflation expectations."
An upswing in inflation expectations is giving the central bank less leeway to offer relief to an economy battered by its first recession in six years. While policy makers said Friday they are prepared to restart easing soon, a decision to hold borrowing costs unchanged and keep the focus on inflation prompted Danske Bank A/S to say the central bank is "becoming careless" about the economy.
Policy makers paused their easing cycle in September for the first time in 2015 after six percentage points of interest-rate cuts brought their benchmark to 11 percent.
Longer Recession
The central bank forecasts the economy won't return to annual growth until 2017, meaning Russia is on track for the longest recession in two decades. Gross domestic product will contract 3.9 percent to 4.4 percent this year and may shrink as much as 1 percent next year, according to a Bank of Russia forecast that projects oil staying at $50 in 2016-2018.
Expansion on a quarterly basis may resume by mid-2016, Nabiullina said Tuesday, expressing confidence that the central bank's 4 percent inflation target will be met by end-2017. Consumer-price growth slowed to 15.7 percent from a year earlier in September.
While the economy has found a "certain equilibrium," Russia must restore positive economic growth, ensure a balanced budget system and keep pushing the inflation rate lower, President Vladimir Putin said at a meeting on Tuesday.
Forward-rate agreements Tuesday showed traders pared bets on rate cuts to 58 basis points in three months, down from 70 on Thursday. Government five-year bonds climbed, lowering the yield five basis points to 10.07 percent. One-month historical volatility on the ruble dropped to 23.5 on Tuesday, the lowest level since August 11.
"We understand that the level of interest rates is high," Nabiullina said. "Still, we must bear in mind the limitations of measures of monetary stimulus" and "the balance of risks for inflation and growth."
Before it's here, it's on the Bloomberg Terminal.
LEARN MORE