'Spectre' Hits Theaters as Future Bond Movies Go Up for Grabs
by
Producers' accord with Sony Pictures expires with current film

Among movie franchises, British secret agent ranks near top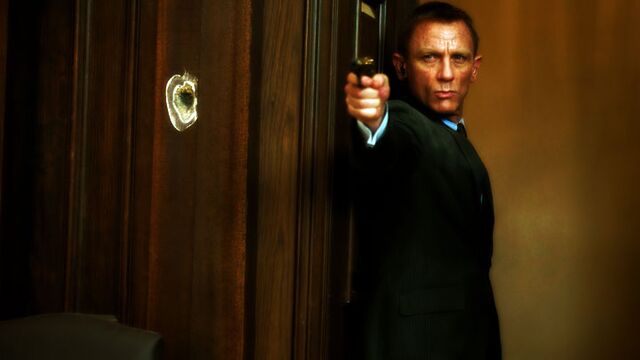 This year's James Bond film is poised to deliver the biggest U.S. opening weekend in the 53-year history of the British spy series, following a record debut for the Sony Corp. feature in the U.K.
"Spectre," featuring Daniel Craig in the title role for the fourth and possibly last time, opens with late showings on Nov. 5. BoxOffice.com estimates it will generate ticket sales of $90 million through the weekend and beat the $88.4 million mark set by the previous release "Skyfall" in 2012. Exhibitor Relations Co., another forecaster, sees $100 million.
"They have found a way to shake up the formula to bring in new fans and please the old ones," said Phil Contrino, senior analyst at BoxOffice.com. "It has staying power."
The timing couldn't be better for the heirs to producer Albert Broccoli and Metro-Goldwyn-Mayer Studios, which own the film rights to Ian Fleming's spy stories. Their accord for Sony Pictures Entertainment to co-produce and distribute Bond films expires with "Spectre," allowing the partners to seek a new deal just as a fresh Bond film sets box-office records. Sony, Warner Bros. and 20th Century Fox are all vying for a piece of the franchise, according to people with knowledge of matter who asked not to be named discussing possible arrangements. 
The James Bond franchise is among Hollywood's most successful, generating more than $1.9 billion in ticket sales in the U.S. alone from 24 films going back to "Dr. No" in 1963, according to researcher Rentrak Corp. Including "Spectre," Sony has co-produced four films under its deals with the owners. "Skyfall" and "Casino Royale," both with Sony, rank among the most successful, even when adjusted for today's higher ticket prices.

Bond movies could be worth $300 million each in profit to a new co-producer and distributor, depending on the terms and how the films do, according to Douglas Lowell, a TV and film consultant whose clients have included Starz and Morgan Creek Productions. His estimate is based on revenue from box-office sales, licensing, merchandise and home video, after expenses and payments to other parties.
Potential bidders will have to weigh several factors, including Sony's experience with the last film. "Skyfall" was a worldwide box-office smash, setting a record for the series with theatrical sales of $1.1 billion. Yet the picture produced only a modest $57.3 million profit for the studio, according to Sony e-mails released by hackers last year.
Under the deal with MGM and the Broccolis, Sony bore 50 percent of the "Skyfall" costs and got 25 percent of the profit from the film, according to one of the people. 21st Century Fox Inc. has the home-video rights under a separate deal expiring in 2016.
"Who else is gonna make such a one-sided deal with MGM," Amy Pascal, then co-chairman of Sony Pictures, said in one of the hacked messages. A spokesman for Pascal didn't respond to a request for comment.
"Spectre" cost an estimated $245 million to produce, according to a person with knowledge of the terms, making it the most expensive Bond picture ever. Marketing could total $175 million, according to Jeff Bock, senior box-office analyst with Exhibitor Relations. "Skyfall," by comparison, cost about $200 million to make.
Because of holiday competition from films such as "The Hunger Games," BoxOffice.com predicts sales of $230 million for the full domestic run of "Spectre." That's less than the $304.4 million "Skyfall" produced three years ago and suggests the new movie will be more reliant on overseas sales. "Spectre" opens Nov. 13 in China, the world's second-biggest and fastest-growing film market. That means Bond will likely get a bigger boost from that market than last time.
Another consideration is lead actor Craig, who has starred in the series since "Casino Royale" in 2006. "Spectre" is the fourth of five films he's agreed to do and the current James Bond has voiced reservations about undertaking the fifth.
For now, MGM is focused on the release of "Spectre," not future deals, according to a person with knowledge of the matter.
Still, several studios have held preliminary talks with MGM, the people said. Sony remains interested.
"Bond is one of the most enduring franchises in film history and we have had great success with it," Sony said in an e-mailed statement. 
Before it's here, it's on the Bloomberg Terminal.
LEARN MORE