VW Challenges EPA's Allegations of Porsche Diesel Cheating
by , , and
Regulator says it's looking into more models of diesel cars

EPA says VW `knew or should have known' about bypass system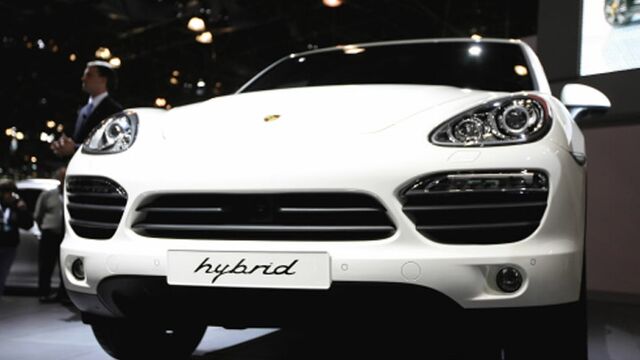 Volkswagen AG rejected U.S. Environmental Protection Agency allegations that its cheating on diesel-emissions tests included Porsche and other high-end vehicles, setting up a showdown with U.S. regulators as it seeks to repair its battered image.
Software in 3.0-liter diesel engines was not installed "in a forbidden manner," and Volkswagen is cooperating with the EPA to "clarify" its questions, the Wolfsburg, Germany-based company said in a statement. VW's shares fell 1.5 percent, taking the market value lost since the diesel-testing scandal emerged in September to 19.9 billion euros ($21.8 billion).

The new investigation centers on the Porsche Cayenne and VW Touareg sport utility vehicles and as well as larger sedans and the Q5 SUV from Audi, according to the EPA. Volkswagen had previously admitted to installing a so-called defeat device in smaller autos from the 2009 to 2015 model years.
The conflict could have implications for Matthias Mueller, Volkswagen's chief executive officer, who led the Porsche brand until his appointment to the top job in the wake of the scandal. Mueller, whose four-decade Volkswagen career includes overseeing product planning at the Audi division, has professed no knowledge of the emissions cheating before it was uncovered by regulators.
"Had they hired someone from outside the company to take over as CEO, and not someone from Porsche or Audi looking to avoid these kinds of revelations, they might have saved face and come clean over the course of the last six weeks," Max Zanan, co-founder of consulting company Income Development Dealer Solutions Group, said in an e-mail.
Shares Drop
The expanded probe involves only about 10,000 cars now on U.S. roads, as well as an undetermined number of 2016 models, but draws in the prestigious Porsche brand that had been untouched by the scandal so far. The division was "surprised" by the EPA statement as, "until this notice, all of our information was that the Porsche Cayenne diesel is fully compliant," its U.S. unit said Monday. About 3,000 of the SUVs are affected, according to a Porsche spokesman.
Germany's Transport Ministry said vehicles with larger Volkswagen diesel engines are part of follow-up investigations stemming from the scandal. The affected models are being examined on test beds as well as on the road. The verification hasn't yet been finalized, the ministry said in an e-mailed statement.
"Expansions of sales sanctions on affected models is now likely to be increased, and the possibility of leniency from the EPA is now reduced," Alexander Haissl, an analyst at Credit Suisse, said in a note to clients. "This could impact the company's credibility."
Volkswagen dropped to 111 euros at the close Tuesday in Frankfurt. The shares have fallen 32 percent since the scandal was revealed on Sept. 18, valuing the carmaker at 56.8 billion euros.
The VW brand's U.S. market share, already narrowing prior to the cheating becoming public, eroded further in October. The nameplate's deliveries in the country edged up 0.2 percent last month, lagging behind jumps of 16 percent at General Motors Co., 15 percent at Fiat Chrysler Automobiles NV and 13 percent at Ford Motor Co.
The EPA and the California Air Resources Board announced Sept. 18 that they were investigating Volkswagen after the carmaker admitted to rigging emissions systems of diesel vehicles so they would pass pollution tests. Software designed to give false results in laboratory checks is installed in 1.2-, 1.6- and 2.0-liter engines. The carmaker says almost 500,000 vehicles in the U.S., and 11 million worldwide, use the motors.
Road Tests
Volkswagen plans to begin recalls in 2016, and has said software tweaks will be enough to make the 1.2- and 2.0-liter models compliant with emissions rules, while the 1.6-liter version will require other equipment. The company has said repeatedly that no other engines have the defeat device installed, particularly those meeting EU6 emissions standards.
The EPA said Monday that, after stepping up testing of diesel models on the road, regulators discovered software in VW, Audi and Porsche models with 3.0-liter diesel engines that turns pollution-control equipment on only when the cars are in "temperature conditioning" mode that mirrors federal test conditions.
The emissions systems were rigged to turn off "one second" after government testing was complete, improving performance but causing nitrogen oxide emissions up to nine times the legal limit, Cynthia Giles, assistant administrator of the EPA's Office of Enforcement and Compliance Assurance, said in a statement. The affected models are the 2014 Touareg, 2015 Cayenne and 2016 Audi A6 Quattro, A7 Quattro, A8, A8L and Q5.
"VW has once again failed in its obligation to comply with the law that protects clean air for all Americans," Giles said. Volkswagen "knew or should have known" that the vehicles had software installed that "bypasses, defeats or renders inoperative" emissions controls, the EPA said in a separate letter to the carmaker posted online.
'Worst-Case Scenario'
The cheating scandal has already rocked Europe's largest automaker, leading to the resignation of Mueller's predecessor as CEO, Martin Winterkorn. VW set aside 6.7 billion euros in the third quarter for repair costs and has repeatedly acknowledged this won't be enough. Under the U.S. Clean Air Act, Volkswagen may be liable for fines as high as $18 billion, based on maximum penalties per car involved, and it faces further costs from lawsuits filed in that country and Europe.
The second EPA notice could trigger a recall of an additional 1 million cars and in a "worst-case scenario" result in an additional 1 billion euros in provisions by the end of the year, Jose Asumendi, an analyst at JPMorgan Chase & Co., said in a note to clients.
"It seems extraordinary that this was not flagged within the company, investigated and declared in light of the challenges which the company has faced in the last two months," Arndt Ellinghorst, a London-based analyst at Evercore ISI, said in a note.
Before it's here, it's on the Bloomberg Terminal.
LEARN MORE