Visa Falls After Buying Visa Europe, Missing Profit Estimate
by
Visa agrees to pay as much as $23.4 billion for former unit

Shares slide 3% as 2016 revenue forecast less than expected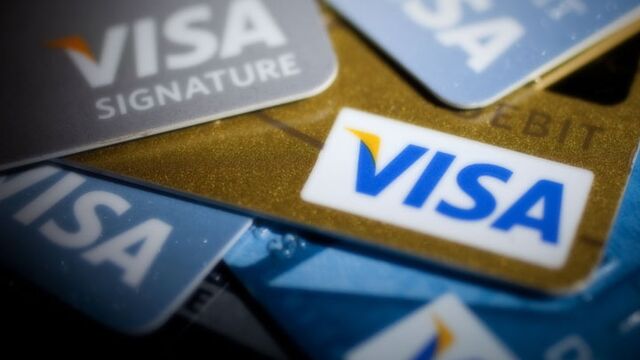 Visa Inc. fell the most in the Standard & Poor's 500 Index after the world's largest payments network agreed to acquire its former European unit and posted profit that missed analysts' estimates for the first time in two years.
Visa slid 3 percent to close at $75.22 in New York, the most since Sept. 28, while the index climbed 1.2 percent. The company said Monday it agreed to buy Visa Europe Ltd. in a deal valued at as much as 21.2 billion euros ($23.4 billion). Visa also reported that fiscal fourth-quarter profit rose 41 percent to $1.51 billion, or 62 cents a share, from $1.07 billion, or 43 cents, a year earlier. That was one cent below the average estimate of 32 analysts surveyed by Bloomberg.
The Europe transaction ends years of speculation about whether the companies, which split in 2007 ahead of the U.S. firm's initial public offering, would reunite. The deal will bolster Visa's revenue in Europe, gives the company more opportunities to return capital to shareholders and allows Visa to increase investments in technology and innovation in the region, according to analysts including Barclays Plc's Darrin Peller.
"This deal is good for the entire payments industry in Europe," Peller said in a phone interview. "MasterCard was always historically been seen as able to compete by having the better global technology. Now you have a better competitor in Visa."
Fiscal Forecast

Visa forecast that fiscal 2016 net revenue growth will be in the "high single-digit to low double-digit range" and that adjusted earnings per share growth will be "low-end of the mid-teens range." That was less than what some analysts including Sanford C. Bernstein's Lisa Ellis expected. The company said that currency fluctuations will have a negative impact of 3 percent on revenue growth next year.
Cost Savings
The Europe transaction includes 16.5 billion euros upfront and as much as 4.7 billion euros more after the fourth anniversary of the deal's completion. The acquisition, which is subject to regulatory approval, is scheduled to be completed in the fiscal third quarter that ends June 30.
Visa expects the purchase will add to earnings per share growth beginning in fiscal year 2017 as the company begins to benefit from revenue overlaps and lower costs. The firm said it expects cost savings of about $200 million when the two companies are fully integrated by 2020.
Visa Europe is owned by more than 3,000 banks, which means the prices its member lenders pay in network fees is lower than in other regions, Bernstein's Ellis said. While that presents an opportunity for Visa to increase earnings, it also means that the company faces short-term risks as it may have to raise prices and will now face competition from smaller rival MasterCard when negotiating deals.
New Debt
"They'll have to navigate implementing the market-based pricing structure that they have everywhere else in the world at the same time they're trying not to lose customers that are accustomed to getting utility-like prices," Ellis said in a phone interview. "It's possible MasterCard may pick up some share around the edges."
Visa plans to issue $15 billion to $16 billion in debt to help fund the deal, and said it intends to buy back an additional $5 billion in stock. The transaction includes 11.5 billion euros of cash upfront and 5 billion euros of stock. The additional 4.7 billion euro payment is contingent on achieving net revenue goals in the 16 quarters following the deal's completion.
"The way we think about priorities changes dramatically," Chief Executive Officer Charlie Scharf said in a phone interview. "We will prioritize the needs of our European clients in a much greater way than we would as two separate companies. And that then results in our ability to deliver a whole host of things, whether they are things that exist today or new things that will be developed."
JPMorgan Chase & Co. and Goldman Sachs Group Inc. advised Visa Inc. on the deal, while Wachtell, Lipton, Rosen & Katz; Macfarlanes; and Milbank, Tweed, Hadley & McCloy LLP served as legal advisers. Morgan Stanley and UBS Group AG advised Visa Europe and Linklaters LLP provided legal counsel.
Before it's here, it's on the Bloomberg Terminal.
LEARN MORE