Valeant Gains as Citron Refrains From New Allegations
by and
Short seller to pass information to `mainstream media'

Ackman, ValueAct, Sequoia have come to drugmaker's defense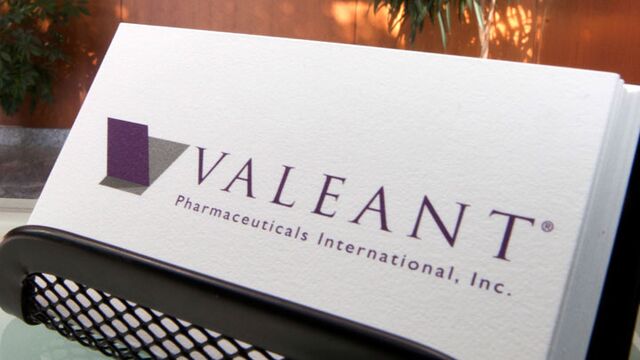 Valeant Pharmaceuticals International Inc. shares gained after stock commentary site Citron Research said it won't release new allegations against the drugmaker, whose shares have plummeted amid scrutiny of its business practices.
"Yes, we have reviewed numerous data points strongly suggesting that Valeant's operation is far 'dirtier' than just Philidor," Andrew Left, the short-seller who runs Citron Research, said in a note. "We are passing all new information on to the mainstream media investigative reports, whose legal teams are far deeper than those at Citron."
The statement was a far cry from the bombshell Left had promised on Friday, when he sent Valeant shares plunging by saying he would reveal more information on Monday. In a show of shareholders' relief Monday, the drugmaker's stock jumped 7.5 percent to $100.76 at 10:49 a.m. in New York.

On Oct. 21, Citron accused Valeant of an Enron-like strategy of recording fake sales using an affiliated pharmacy, Philidor Rx Services, to store inventory and record those transactions as sales. Valeant shares plummeted 28 percent in one day. The company has denied the allegation.
In a telephone interview with Bloomberg News, Left said the contents of Monday's report reflected consultations with his legal advisers.
"They said if you get too deep into this thing, which you already are, let the other guys do the heavy lifting," Left said. "It's not my job to be judge, jury and executioner on this. People think I'm going to take a company that's been financially engineered by the best minds in the pharmaceutical business and I'm supposed to take it apart in 2 1/2 weeks? What am I, the short-selling MacGyver?"
Valeant's defenders include billionaire activist investor Bill Ackman, whose Pershing Square Capital Management is one of Valeant's biggest shareholders, with 19.5 million shares as of June 30. Ackman and other investors such as Sequoia Fund and ValueAct Capital Management have tried in recent days to rally support for Valeant, with little success. 
'Meaningful Mistake'
Ackman said in a Friday presentation that Valeant made a "meaningful mistake" in spending too little on public relations and government relations. He also blamed the stock's decline on the market's inability to understand the complexities of Valeant's business model, jealous rivals and bad journalism. He predicted the stock will rise to $448 by 2019, more than 70 percent above its all-time high on Aug. 5. 
Bloomberg News, citing former employees and an internal document, reported Thursday that Philidor has altered doctors' orders to wring more reimbursements out of U.S. health insurers. Valeant said Friday that it will terminate its relationship with Philidor, which will shut down operations as soon as possible.
In a statement late Monday, Philidor said it has "adhered not only to all applicable laws but to the highest standards of ethical business practice." The company is working with Valeant for the next 30 to 90 days to help patients transfer their prescriptions to other pharmacies. Philidor will fill prescriptions for the next week, and possibly beyond, as part of that process, the company said.
In an interview Friday with Bloomberg News, Left mocked Ackman's assertion that he was unaware of Valeant's full relationship with Philidor, as well as Ackman's contention that Valeant would overcome its current problems.
"How crazy is that?" Left, 45, said of Ackman's comments. "That tells you he doesn't know the business very well."
Fran McGill, a spokesman for Pershing Square, said the firm wouldn't comment beyond what Ackman said on the conference call. 
Valeant said Left's earlier allegations were proven false.
"Mr. Left and Citron have already made one set of false claims about Valeant's business in an intent to profit by driving down our stock," said Laurie Little, a company spokeswoman. "We have shown his previous charges to be completely untrue, and our outside counsel has met with the SEC to request they investigate him. We have no doubt that he will continue to mislead investors about our business, and we will be ready to respond accordingly."
The stock's decline is spurring billions of dollars in losses for hedge funds who before August had ridden the shares to some of the biggest gains in the North American bull market. The company's market capitalization soared from $2 billion in 2010 to $90 billion in August, only to crash below $35 billion in less than three months.
"My next move is to let my mind go for a minute," Left said Monday. "We got the ball rolling, everything is in motion on all fronts, it's not just me leading the cavalry. I don't feel any pressure from Valeant's legal team and I want to keep it like that."
Before it's here, it's on the Bloomberg Terminal.
LEARN MORE