Sweden Closer to Krona Interventions, Riksbank's Jansson Says
by and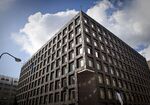 The Swedish central bank is moving closer to intervening directly in the currency markets as it may exhaust other measures in its effort to boost inflation, according to Riksbank Deputy Governor Per Jansson.
While there's "a little more scope" to cut interest rate further and buy more government bonds, "the expansive policy potentially has negative side effects and those become bigger the more we do," Jansson told reporters in Stockholm Monday. "If there will be a continued need to do more then we're moving closer to currency interventions."
The problem for countries on the periphery of the eurozone has become particularly acute since ECB President Mario Draghi signaled a new wave of stimulus.
The Riksbank last week expanded its bond buying program for a fourth time since February and plans to have bought 200 billion kronor ($23.7 billion) in bonds by the end of June 2016. That's equal to about a third of all outstanding nominal debt.
While sounding a warning, Jansson said the bank is now "well under way" in reaching its inflation target. The bank's plan to reach its 2 percent inflation target next year hinges on the krona not appreciating rapidly, he said.
"I would like to see the krona continue to be weak and weaken further from this level," he said. "There is a larger acceptance abroad that one can under special circumstances intervene in the currency."
Before it's here, it's on the Bloomberg Terminal.
LEARN MORE