Ryanair Says Winter Looking Tougher After Record Summer
by
Over-capacity to weigh on fares in European low-season

Record first-half traffic will still lift full-year profit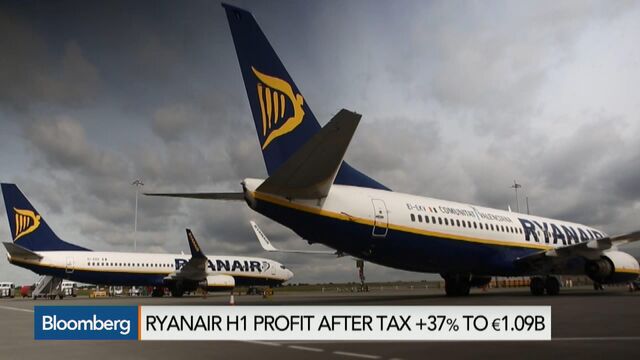 Ryanair Holdings Plc said record summer passenger bookings will give way to a tougher winter as rival carriers add capacity, boosting competition and weighing on fares during the weakest period for travel.
Ticket prices that rose 2 percent in the summer will be "broadly flat" this quarter and could fall 4 percent in the January-March period, the Dublin-based carrier said Monday, adding that the decline will help drive sales.

Profit after tax jumped 41 percent to 843 million euros ($930 million) in the second quarter ended Sept. 30, and Ryanair said full-year earnings will be at the top end of forecasts. Analysts had predicted three-month earnings of 837 million euros, based on the average of six estimates compiled by Bloomberg.
'Cost Advantage'
Passenger numbers swelled to 58 million in the first half in what Chief Executive Officer Michael O'Leary said was "a summer when everything went right." The 12-month figure should reach 105 million, or 1 million more than forecast in September. Earnings should be at the upper end of a 1.18 billion-euro to 1.23 billion-euro range, even as competition gets tougher, he said.
"Our cost advantage over everyone else remains very much in place," Chief Financial Officer Neil Sorahan said in an interview. "That gives us the confidence that as we add the traffic and capacity over the winter we will still continue to hit the numbers."
Shares of Ryanair traded up 2.5 percent at 13.84 euros as of 12:37 p.m. in Dublin after earlier falling as much as 4.4 percent. The stock has gained 46 percent this year, valuing the company at 18.3 billion pounds.
"Despite clear seasonality and internally-generated capacity pressure in winter, trading feels relatively strong," Nomura analyst James Hollins said in a note to investors.
Crew Makeover
Ryanair itself will contribute to the capacity glut, grounding just 40 planes over the winter according to Sorahan -- 10 fewer than last year -- as it targets a 22 percent gain in fourth-quarter traffic. Connections between Cologne and Berlin, Germany, as well as Dublin-to-Amsterdam flights, are among the 119 new routes to be added.
Ryanair has sought to refine its no-frills image by improving its website, targeting primary airports and offering a range of paid-for extras to entice more business passengers and families. Changes planned for the winter period include restyled crew uniforms and subtler Sky interiors aboard the 28 Boeing Co. 737s jetliners due to come into service through the end of March.
The market-repositioning strategy, dubbed Always Getting Better, as well as the strength of the British pound and a spur for travel provided by wet weather across the U.K., helped keep load factors, or the proportion of seats filled, above 90 percent for the first half.
Unit costs should fall 5 percent for the full year, Ryanair said, or 1 percent excluding fuel costs. Ryanair said it has boosted its kerosene hedge for the year ending March 2017 to 95 percent of requirements at an average rate of $62 per barrel. Fuel savings for the period should total about 430 million euros.
The Irish company excluded a gain of 317.5 million euros from the sale of a stake in Aer Lingus Group Plc from its net result. Luton, England-based EasyJet Plc, Europe's second-biggest discount airline, will report report full-year figures on Nov. 17.
Before it's here, it's on the Bloomberg Terminal.
LEARN MORE